A fast, dedicated and direct connection to the Internet, designed with resilience and flexibility in mind to suit any size of company and grow to match the ever-increasing demands of your business.
Direct Internet Access Service comprises Ethernet links between the customer site and the internet, utilising KCOM's dedicated IP transit and routing.
This is a Wires Only product requiring the Communications Provider or end customer to provide routing and firewall equipment. KCOM wholesale provides Network Termination Equipment (NTE) that provides the network interface between the customers equipment and the KCOM network. The Wholesale Direct Internet Access Service is available on a one year term.
Wholesale DIA circuits provide an adaptable dedicated link to the Internet, they provide a high-speed Internet connection for a company's Local Area Network (LAN). Service options range from 10Mbps to 10Gbps, providing dedicated access with a high-speed "always-on" connection.
KCOM Wholesale provide a target five-clock hour fault repair on all Leased Line DIA Circuits, operating 24 hours per day, seven days a week including Bank and public holidays.
Fibre ethernet delivery offers the fastest symmetrical speeds and highest reliability of all Leased Lines with the ability to rapidly increase speeds when needed. Speeds options include: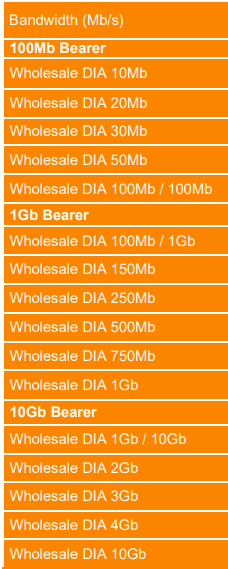 How Leased Lines will benefit your business
Increased productivity
Fully uncontended connections with the fastest possible download and upload speeds to keep your customer's business working at its optimum.
Identical upload and download speeds are ideal for supporting high-bandwidth applications such as video, VoIP and off-site hosted data access. Optimise your customers business for the latest cloud and hosted services.
Guaranteed consistency
Optimum fix times with a five-clock hour target time to repair means that your connection will provide you with a reliable service and at the speeds you demand. For even more demanding requirements, we can look at the feasibility to provide a choice of failover options, so your customer's business stays connected.
Complete flexibility
Upgrade to increase your bandwidth at any time to keep up with increases in demand as your customer's business grows.
Personalised support
Dedicated account management for our partners and completely unscripted UK-based technical support answered within the Hull area.
For further information and commercial pricing please contact your Wholesale Account Manager.