Added extras
Message Minder 1571 answer phone service
Our simple to use voicemail service for your landline. Just dial 1571 from your KCOM line to listen to your messages. Please note, this feature isn't available over fibre phone lines.
Caller Display and Reject Withheld Number
Caller Display allows you to see the number of the caller before you answer, giving you that extra level of security, while opting for our Reject Withheld Number service means that you will not receive calls from anyone who chooses to keep their number a secret.
Free Ex Directory
Remove your number from the phone directory and call displays.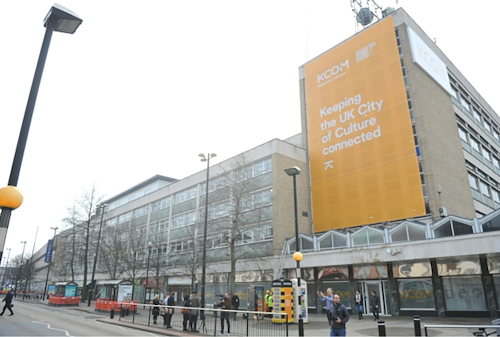 We're on your doorstep in Hull
We're just one local call away or you can even pop in to our Customer Centre on Carr Lane in Hull city centre. We're the only major broadband provider in the UK to offer a face-to-face walk-in centre if you need help.
On call since 1904
Over 100 years experience has taught us that not every customer is the same. That's why we've created four unique phone plans and a host of add-ons which can save you money on calls outside of your standard allowance.
For full details of our consumer call bolt-on packages, please click here.
Flex packages
Our Flex packages mean low income families can always stay in charge of their phone and internet bills. We have introduced a price cap for customers on these packages, meaning that you will only ever pay a maximum of £10 a month for phone calls, subject to our Fair Usage Policy.
Next generation text-relay
Next Generation Text Relay (NGTR) is a service that enables people with hearing and/or speech impairments to communicate with others through telephone or textphone equipment or other devices such as PCs and tablets. A 'relay assistant' acts in the middle to text the speech from the two people on the call.
NGTR is a service provided by BT that we connect to so our customers can use it.
Making a call with NGTR
You can use the service in a number of ways, including using an ordinary telephone or textphone and also on computers, laptops, tablets, and smartphones that are connected to the internet. You can even link a 'TextNumber' to your existing phone number to make and receive calls without dialling a prefix. For full details of the service and how to access it go to ngts.org.uk or contact the NGT Helpdesk on 0800 500 888.For calls made using the NGTR services you will never be charged more than you would have been for the same call made without using the NGTR service. More information about pricing can be found in the KCOM Price Manual.
General
All prices include VAT and are based on payment by Direct Debit. Payment by non-Direct Debit is an available option but subject to additional monthly charges. Inclusive local calls are to selected geographic landline numbers starting 01482, 01377, 01430 and 01964. UK Landlines/UK Landlines and Mobiles/All Inclusive bolt-ons include unlimited calls to 01, 02 and 03 UK landline numbers. For full details about call charges and eligible numbers, see our Pricing Manual. Calls are subject to our fair usage policy. 18 month contract applies for standalone phone services. For full terms visit kcom.com/home/legal.