What is Flex?
Flex is KCOM's social access package available in Hull & East Yorkshire (postcodes HU1 to HU17). If you meet certain criteria, you can send us an application to select the following:
30Mbps Lightstream Full Fibre broadband for just £14.99 per month on a 30 day rolling contract*
Calls for just £5.10 per month on a 12 month contract*
* All prices are inclusive of VAT unless stated otherwise. Prices assume you pay by direct debit and paperless billing. The default way to pay for this package is by Direct Debit, however other payment methods may be accepted. For further pricing information including call charges, click here. Customers can also take one of our call bolt-ons which can be found here. Your prices will not be subject to an annual CPI+ price increase.
Lightstream Flex terms and conditions

This service is not subject to early termination charges. Lightstream Broadband speeds are affected by various factors including internal home wiring and in-home Wi-Fi. Minimum, maximum and average speeds are based on actual access line speeds within those postcode areas. If you receive speeds significantly below the minimum stated here and we're unable to fix it, you can cancel your contract at any time with no termination fee. All prices include VAT and are based on payment by Direct Debit and Online Billing. Payment by non-Direct Debit or paper billing are available options but may be subject to additional monthly charges. 12-month contract applies to Flex Call Only; 30 day rolling contract applies to Full Fibre Flex. You can terminate your contract on any billing date by giving us at least one months' notice prior to your billing date. Your billing date is the date we issue your monthly bill. This will be the same day of each month and can be found on your monthly bill. Turning on this service could be subject to a new application and credit check.

**The Lightstream Flex Service is subject to status and network availability. Package is subject to eligibility. The Lightstream Flex Service is subject to our standard terms and conditions available here. See traffic management policy here. For full details about home phone bolt-ons, call charges and eligible numbers, see our Pricing Manual. Calls are subject to our fair usage policy. Where we use our network to deliver Lightstream broadband services the performance of our network is unaffected by distance and configured to support the speeds that we advertise. This does not mean that you will always receive these headline speeds but we do manage our network to minimise the drops in performance. In the minority of cases where Lightstream broadband is delivered using alternative network technologies (FTTC) to deliver your broadband service the performance will vary by distance. Similarly, where your broadband service is delivered using legacy technology (ADSL) the performance will vary by speed. If there is no FTTP or FTTC availability in your area you may be able to take one of our other Flex packages on ADSL. See our price manual for more details.

---
What is the criteria?
Our Flex Packages are only available to customers who receive one or multiple of the following:
Income Support
Pension Credit (this does not include State Pension)
Job Seekers Allowance
Housing Benefit
Personal Independence Payment
Attendance Allowance
Universal Credit, with zero earnings*
Care Home residents and Lifeline customers who are referred to us via Social Services
Care Leavers
Employment and Support Allowance (EAS) (Income related)
* This means the person claiming the Universal Credit doesn't receive any earnings from employment or self-employment during their Universal Credit assessment period. Anyone applying must provide us with proof of eligibility with their application. The person eligible (as above) must also be the person whose name is on the bill.
Who can't have it?
We can't provide you with our Flex packages if:
You can't provide evidence of the above or are not the person named on the bill
You already have a telephone service from another supplier
You have more than one line at the same or different premises (unless you have a second line because you're responsible for paying the telephone bill for a relative)
Your line is an ISDN line
Your line is used exclusively in connection with a burglar alarm or other monitoring services
You have ceased and had service re-provided in the last 3 months
Your service has been restricted because you owe us money
If you are unsure whether you meet the criteria, or have any other queries regarding Flex, please give us a call on 01482 602555
How to apply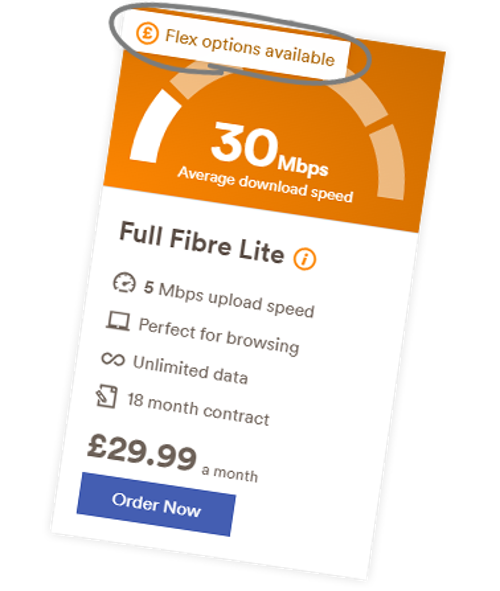 Enter your postcode and select your address

Click the "Flex options available" link on our 30Mbps product

Select your chosen Flex package

Enter your application details on the Flex portal