What our customers say
We're on the 250Mbps package and it works a treat, no issues. We've cancelled our Sky subscription since getting it and just download/stream now.

James Wilson of Hull

I have to say a massive thank you to @KCOMhome today for a fast and effective service sorting my Lightstream at home today! Service with a smile, a new router and so helpful. I'm up and running faster than ever!

Jan Hornby of Hedon

Shout out to the engineer who came to my house today to sort the WiFi out! Absolutely brilliant and great customer service, which is rare these days!

Vicky of Hull
More about your new services
Getting the most from the internet
To help you enjoy the best experience right from the start, we've put together this guide to answer some of the most commonly asked questions and provide tips on what you can do to improve things.
Download the PDF
How does an engineer install Lightstream broadband?
Find out more about what our engineers will be working on in the outside and inside your home to set up your Lightstream broadband service.
How is Lightstream installed?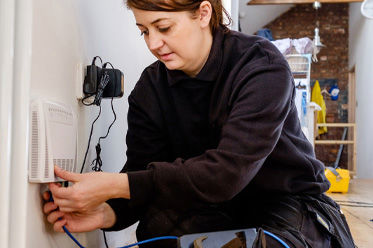 Ten things you didn't know were affecting your Wi-Fi
Our full fibre Lightstream delivers the UK's fastest broadband speeds right to your front door, but your in-home experience can be affected by many different factors
Maximise your Wi-Fi
Award-winning home broadband
We are exceptionally proud to have won European Broadband Awards - Quality and Affordability of Services award, ISPA's Best Consumer Service Provider and INCA's Best Urban Impact award.