Community
By KCOM | 04 November 2019 - 1 min read
High Sheriff drops in to inspire Hull youngsters
The Year Five children from St Charles Primary School, Beverley Road, met High Sheriff Sue Stephens at KCOM's Learning Zone this week as part of an event to learn more about being an ambassador for the city.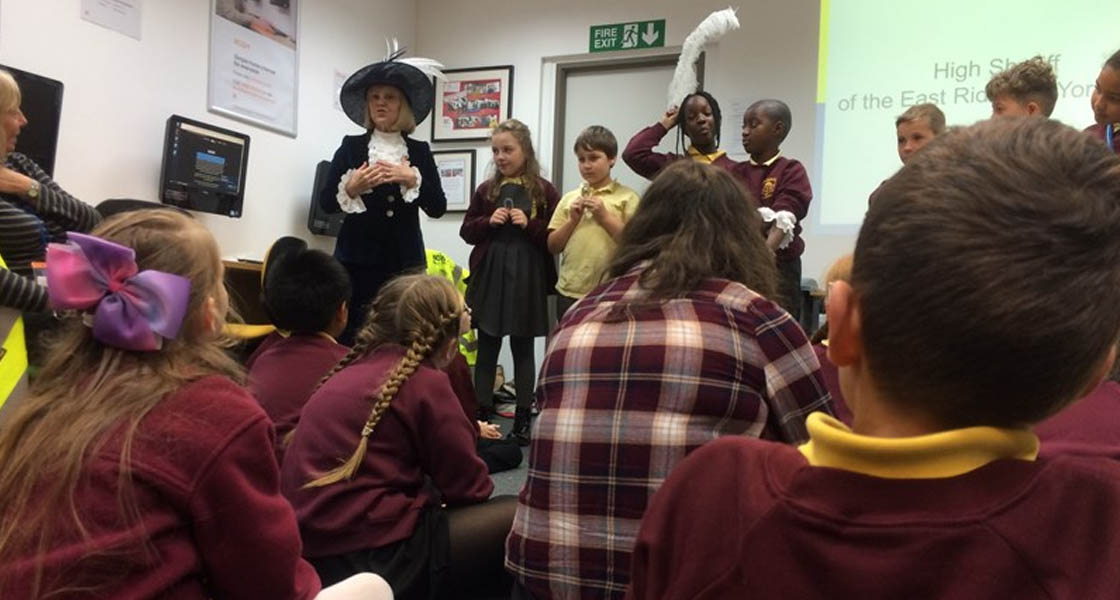 The High Sheriff, who wore her full ceremonial costume for the visit, including a blue velvet suit, ostrich feather hat and bejewelled sword, told the children they could be anything they wanted to be when they grew up with enough effort and dedication.
Sue, the Queen's representative in East Yorkshire, is focussing her work on helping vulnerable adults and children during her year in office.
And after a grilling from the youngsters about what it's like to be a 21st century sheriff, Sue said she'd loved every minute.
She said: "It's been brilliant meeting with the children today. They were a lovely bunch, very well behaved and they asked some great questions. I'm really committed to the amazing work that the Children's University do to inspire children in Hull and the East Riding and it's great to see companies like KCOM helping them to give children the best opportunities possible to go and do amazing things."
Sue told the youngsters that when she peered through the railings on a visit to Buckingham Palace as a young girl she never imagined that, decades later, the Queen herself would choose her to be High Sheriff.
That, she said, proved anyone could grow up to be the High Sheriff or a success in whatever field they chose to be.
Nine-year-old pupil Marcin Kostrzewa, said: "It was really good. I've never met a High Sheriff before. She had some really good stories about what she did and visiting Buckingham Palace. And I enjoyed looking at her sword. I'd quite like to be the High Sheriff when I grow up."
The High Sheriff is a historic role dating back nearly a thousand years which nominates a leading local figure to be the crown's representative in counties across the UK.
Sue, a lawyer by profession, is the fifth woman to be appointed High Sheriff and took up her role in March.
During her year in office Sue is actively supporting the Working Independently to Support Hull Hospitals (WISHH) charity which raises money to fund facilities, services and equipment for Hull Royal Infirmary and Castle Hill Hospital above and beyond what can be achieved by the NHS.
KCOM recently joined forces with the charity to provide one of its iconic cream phone boxes to serve as a wishing well in the entrance to Hull Royal Infirmary.
For more details about Working Independently to Support Hull Hospitals visit https://wishhcharity.org.uk/