Business
By KCOM | 04 October 2019 - 5 min read
Hull and Humber Tech Awards winners revealed
The cream of Hull's business community gathered last night to celebrate the best the region's tech sector has to offer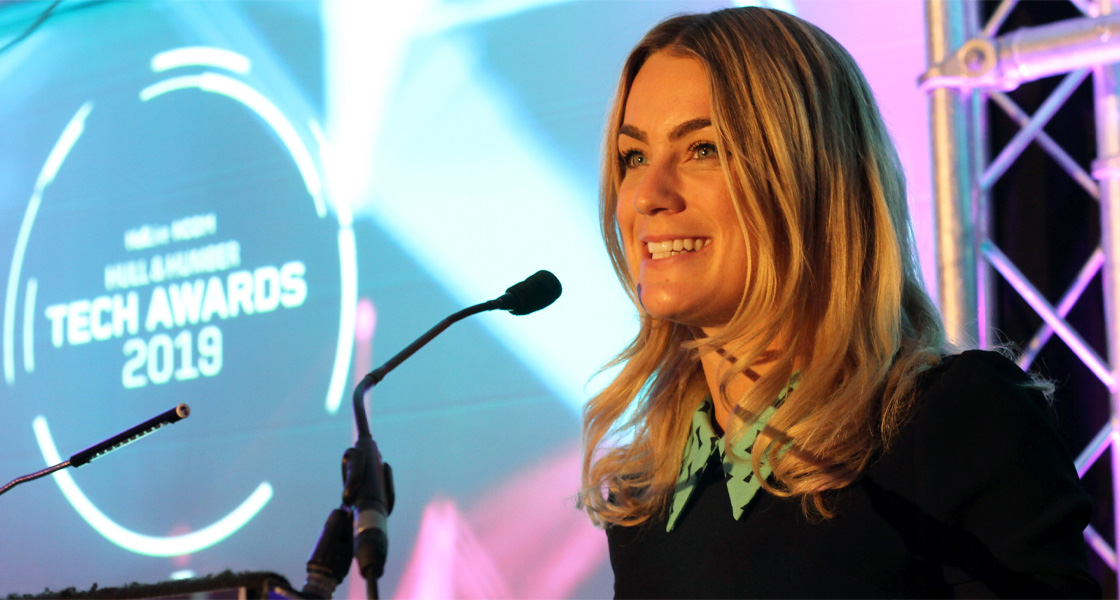 The winners of the Hull and Humber Tech Awards 2019 were announced at an event in Hull's burgeoning Fruit Market cultural quarter with trophies presented to 11 outstanding companies that are making waves across the region and even the world.
KCOM managing director Sean Royce was keynote speaker at the event and also presented the final award of the night to leading Hull firm Wykeland for its outstanding contribution to the local tech sector.
I'd like to congratulate all of tonight's winners and everyone who was shortlisted for an award. Once again, the quality of entries we've had for this – our fifth annual Tech Awards – has been phenomenal and demonstrates the breadth and depth of innovation and talent we have here in Hull and the wider region.

Sean Royce
KCOM Managing Director
Sean added the future for the region's tech and digital industries had never looked brighter, underpinned by KCOM's full fibre broadband network, which was completed earlier this year.
With every corner of KCOM's Hull and East Yorkshire network covered by Lightstream broadband, it already has an advantage over the rest of the UK which currently only has eight per cent fibre coverage.
At a time when Prime Minister Boris Johnson is promising to accelerate the availability of full fibre broadband across all of the UK – bringing the previous deadline forward from 2033 to 2025, it's worth taking a moment to consider what this means. Currently, just eight per cent of the rest of the UK has access to full fibre broadband and all the benefits it brings. Compare that to the 100 per cent of homes and businesses that now can now access full fibre in our region and you can see how we're already leaps and bounds ahead of the rest of the country. I can promise you we'll continue to invest and build for the future to give this region every advantage possible as we look towards to a bright and prosperous future."

Sean Royce

The awards, which was hosted by Georgie Barrat of Channel Five's The Gadget Show, are proving more popular than ever as Hull and East Yorkshire's digital sector continues to thrive.
I believe that this has probably been our most challenging and demanding judgement day yet - but also the most enjoyable. I think we have a very well thought through and very fair group of shortlisted businesses - that both recognises the greatness of the companies and individuals involved but also demonstrates a wide range of tech successes in our area."

David Keel
Chair of the C4DI and Hull's Digital Ambassador
The full list of winners is:
Woman in Tech Award (sponsored by Ron Dearing UTC)
Joanne Dixon
Joanne Dixon became the Managing Director of HBP in 2007. Since then, HBP has transformed under her leadership. Last year, it celebrated its fifth consecutive of growth, celebrating its highest ever turnover last year, up 58 per cent from 2016. Joanne's five-year business plan was achieved in just three years, with the company doubling in size and attaining its highest ever customer base.
Young Person in Tech - Under 30 (sponsored by Wykeland)
Brandon Ellis-Cairns
Brandon joined Vanilla as a trainee consultant straight out of college in Grimsby in 2014. He has since gone from strength to strength, becoming a talented developer and an indispensible member of the technology team. Brandon has worked closely on expanding the digital footprint of Vanilla, and authored the firm's Making Tax Digital software.
Tech Start-up of the Year (sponsored by Hays)
Bombyx PLM 
Bombyx PLM ensures everything is in one place for a brand and team to be able to develop their fashion product with very little stress by using the software right from concept, through to design,
eCommerce Transactions Award (sponsored by Arco)
Fuelmate
Part of J.R. Rix & Sons Ltd, a traditional family-owned business that's been around since the late 1800s, Fuelmate is a fuel card reseller which has truly disrupted the industry.
In order to compete and grow the business during the last six months, Fuelmate has adapted its business model and revolutionised a traditional product by embracing digital technology.
Use of Tech in a 'Traditional Business' (sponsored by Hull College)
Miller Graphics
In 2016 the traditional print business made the major decision to pivot into a total digital transformation.
Since then, every single aspect of the business has been transformed - from the culture of the company through to the entire product range.
Miller Graphics now provides high-end CGI images, augmented and virtual reality services, and full product animations.
Fastest Growing Tech Business of the Year (sponsored by Arc Software)
Giacom
Giacom is the fastest-growing, reseller-only Cloud Service Provider (CSP) in the UK.
Its portal, the Giacom Cloud Market, makes it easier for IT service providers to order, deliver, and manage world-leading cloud services for SMBs of all shapes and sizes.
In the last three years, turnover at Giacom has grown from £13.8m to £35.7m, with net profits up from £3.3 million to £4.8 million.
Tech Team of the Year (sponsored by Spencer Group)
Sauce
Sauce develops cutting-edge IoT solutions, mobile applications and business software for a wide range of clients, including Nestlé, Ideal Boilers, Siemens Gamesa and the NHS. Sauce is focused on delivering a high-value minimum viable product as quickly as possible.
Early-stage user testing allows the business to get the feedback it needs to make informed product refinement decisions for its clients, creating a feedback loop which ensures that the project is always on the right track.
Tech Disruptor of the Year (sponsored by C4DI)
Rockar Digital
Rockar has broken the traditional car dealership journey. It has developed a technology and platform which makes car buying as easy as ordering something on Amazon.
The platform integrates all aspects of a purchase journey - finance calculation, trade-in, test drive booking, stock selection, stock build, booking delivery dates, order tracking and digital documentation via customer account.
The technology is all about user experience and empowering customer to make the car purchase that is right for them.
Leadership in Technology (sponsored by Business Live)
Joanne Dixon
As managing director at HBP Systems, Joanne's core responsibilities are the development and implementation of business strategies to drive growth, enhance customer relations and increase commercial awareness.
Joanne Dixon began her career in tech in 1992 at the young age of sixteen when she joined business technology solutions provider, HBP Systems Ltd, as an apprentice under the Youth Training Scheme.
Tech Business of the Year (sponsored by Trident)
Rockar Digital
Rockar has developed a platform which makes car buying as easy as ordering something on Amazon. The technology is all about user experience and empowering customers to make the car purchase that is right for them.
The platform integrates all aspects of a purchase journey - finance calculation, trade-in, test drive booking, stock selection, stock build, booking delivery dates, order tracking and digital documentation via customer account.
Rockar – which has sold nearly 5,000 vehicles already - has logged over 1.6 million user journeys, with 80 per cent of its customers being completely new to the brand.
Outstanding Contribution Award (sponsored by KCOM)
Wykeland
Wykeland has played a pivotal and central role in the development of Hull's tech campus in the Fruit Market.
The developer has led the regeneration of the area, which included the construction of Hull's C4DI building and surrounding @TheDock complex.
The C4DI, since opening in late 2015, has provided a home for Hull's tech start-ups to thrive and grow. It is a place for like-minded businesses to collaborate, innovate and produce ground-breaking software, apps, gadgets and much more.
The C4DI is fully occupied, and in the space of under four years has seen many tenants – perhaps most notably Sauce – grow within the building and move to new, bigger offices.
None of this would have been possible without Wykeland. It was its ambition and vision to create the C4DI and surrounding Fruit Market development which has transformed a previously disused area of Hull.
Now, the next chapter of Hull's tech campus is underway. Plans have been approved for two new buildings on the @TheDock development, which will provide over 30,000 sq.ft. of office and meeting space.