Community
By KCOM | 29 March 2021 - 2 min read
KCOM Kits puts a spring in the step of Barton Juniors footballers
New kit for local Under 9s team thanks to KCOM scheme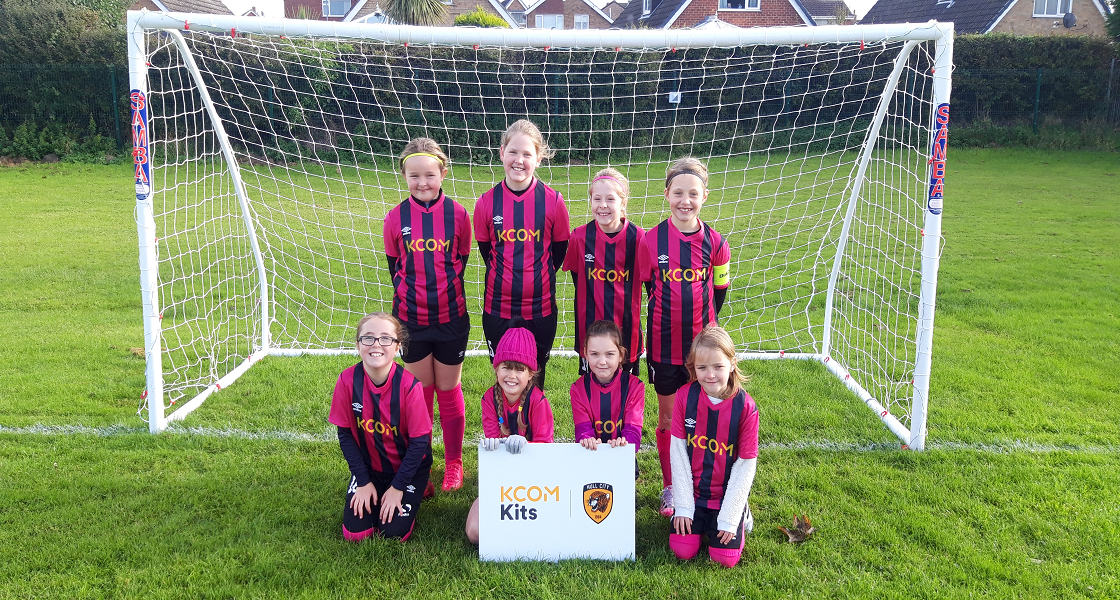 It's the sense of pride and togetherness that a new team kit brings that the girls of Barton Juniors Under 9s like best.
The girls were one of 40 youth teams across East Yorkshire and North Lincolnshire who scored last season by taking part in the KCOM Kits initiative.
The scheme, run in partnership with Hull City, meant that for each of the 40 league goals the Tigers scored at home last season KCOM donated a full Umbro team strip to a local youth football team.
More than 650 teams, representing 100 clubs from across the region, registered to take part in the scheme with 40 lucky winners being picked at random at the end of the season.
Team coach Rob O'Mara said wining one of the kits had been a massive boost for his young team.
"I'd been scratching around for some sponsorship for a new kit for the girls, because the they'd outgrown the old one they had, but with Covid and everything else, there wasn't much help around.
"I heard about KCOM Kits on Facebook and decided to have a go. And then, when I got the call saying we'd won, it was just a massive relief and felt like a huge weight being lifted.
"The girls absolutely love the kits and it has really helped them bond as a team. It gives them that special sense of camaraderie and of being a unit when it comes to match day and it's fantastic to see."
Rob, a PE teacher at the club's base at Baysgarth School, in Barton, North Lincolnshire, said there has been an explosion in interest in girls' football in recent years and the Barton Juniors now boasts four teams, ranging from the new under-8s to the Under-12s which compete in the East Riding League.
"It's really taken off and it's great to see girls showing a real interest in playing football. Schemes like KCOM Kits have given a real boost to our under-9s and we're looking forward to getting involved again this season. We're always looking for new players and new coaches and volunteers to help run the club, so if your daughter is interested in playing please get in touch."
The second season of KCOM Kits is now underway and with the Tigers sitting pretty at the top of the League One table on the hunt for promotion, it looks like this could be a bumper year for goals.
And, of course, for every goal City score, another kit goes in the KCOM Kitty at the end of the season.
To make things even more interesting, the broadband provider has pledged to donate two kits for every goal the Tigers score against Northampton Town at home on Easter Monday. (Monday, 5 April)
Each KCOM Kit comprises 15 outfield shirts, shorts and socks and one goalkeeper kit to make sure each team looks its best on the pitch.
KCOM CEO Dale Raneberg, said: "I'm delighted to see that our KCOM Kits initiative is bringing real benefits to local grass roots football teams across East Yorkshire and North Lincolnshire.
"It's a fantastic feeling to be part of a team and youth sport is a great way for youngsters to keep fit and happy, which is more important than ever right now as we emerge from the latest lockdown."
For more information playing and coaching opportunities about Barton Junior Football Club visit here.
For more information about registering for KCOM Kits click here.