Community
By KCOM | 13 August 2021 - 3 min read
KCOM Kits returns for a striking third season
Grassroots soccer clubs to win full team strips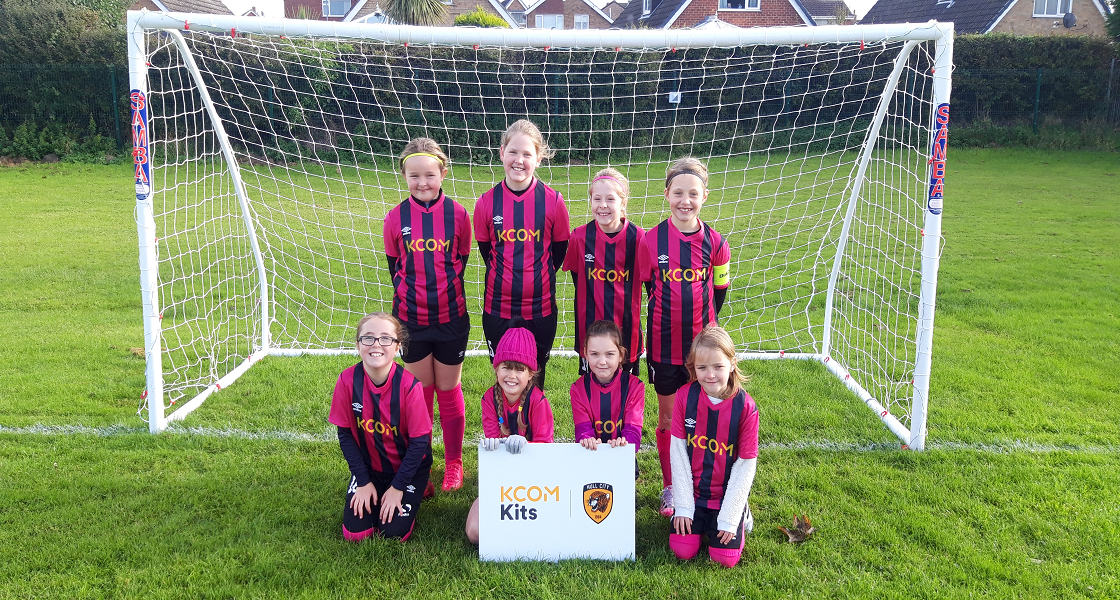 They shoot, they score a hattrick!
KCOM Kits, the scheme where local youth football teams can win a full Umbro strip, is returning for a successive third season.
The scheme, run in partnership by KCOM and Hull City, donates a full team strip to the KCOM Kitty every time the Tigers score a home league goal at the MKM Stadium.
So far, the scheme has donated 75 kits to teams across Hull, East Yorkshire and North Lincolnshire, adding a new strip to the collection each time City's strikers have hit the back of the net.
John Rooney, KCOM Retail managing director, said: "I'm absolutely delighted to announce that KCOM Kits is returning for a third season in a row. It's a massively popular scheme that hundreds of local teams have already taken part in and that has benefitted local grass roots sport in a big way.
"We've already given away dozens of Umbro team strips to youth teams right across the region and we hope that the Tiger have their shooting boots on now they're back in the Championship so we can donate many more.
"Let's hope the Tigers can beat last season's tally of 35 goals on their way to promotion and that we can smash the 100 kits donated target this season."
KCOM Kits has proved a smash hit since its launch in 2019 with more than 650 local youth football teams, representing more than 100 clubs, applying for the chance to win a strip as part of the scheme. The winners of the kits are picked at random at the end of the season from all those who have registered.
Each kit comprises 15 outfield shirts, shorts and socks and one goalkeeper kit to make sure each team looks match ready on the pitch.
The lucky winners come from right across the region including Driffield, Hornsea, Withernsea, Goole and Barton – just some of the areas in East Yorkshire and North Lincolnshire where KCOM Retail is now expanding its full fibre broadband services to.
To register your club for KCOM Kits click here