Group
By KCOM | 10 February 2021 - 2 min read
KCOM provides apprentice pathway for career success
"I like the idea of earning while you're learning," says Mark Blenkinsop, KCOM's Head of Corporate Social Responsibility and Estates.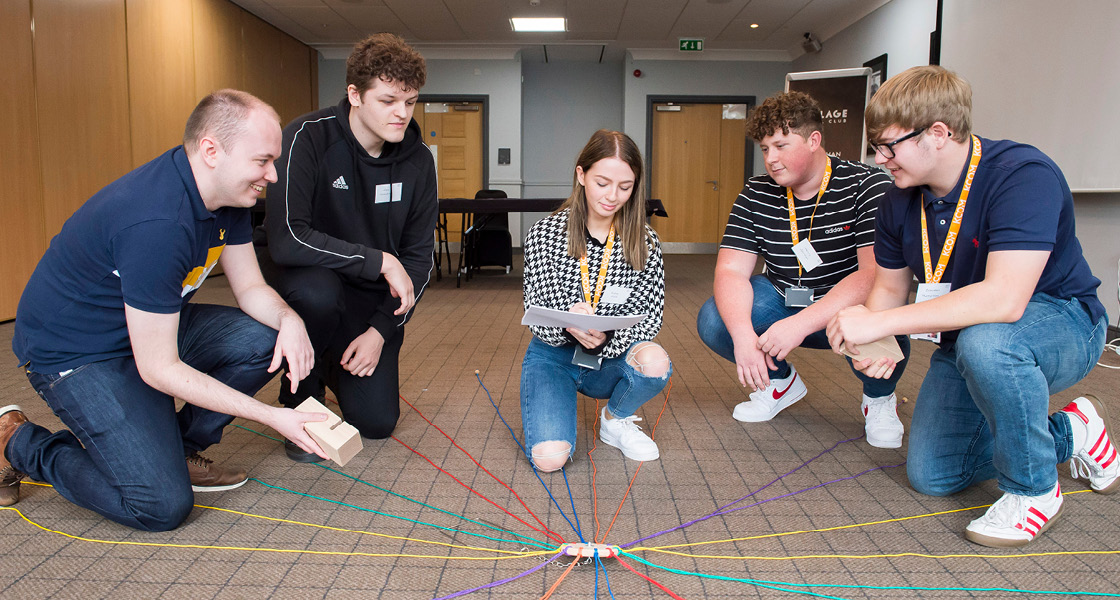 "I like the idea of earning while you're learning," says Mark Blenkinsop, KCOM's Head of Corporate Social Responsibility and Estates.
Since joining KCOM 18 years ago as an infrastructure apprentice, Mark has worked his way up to become a senior manager within the business and is now responsible for the company's vital engagement activities with the local community as well as its burgeoning environmental initiatives.
"I'm a huge advocate of apprenticeships," says east Hull-raised Mark, 37. "Because you are not only learning vital skills that will stand you in good stead for the rest of your life, but you're also earning a living at the same time.
"I wanted a job that would challenge me and allow me to gain experience in lots of different areas of the business – and KCOM's apprenticeship gave me that.
"The opportunities KCOM gives to its apprentices here are great. There are so many good people at KCOM who will support your development and there's a clear progression path in place for everybody who wants to progress their career within the company.
"One of the best things for me is that there are always opportunities to keep learning – no matter what stage you are at in your career. I've recently done some qualifications in CSR as part of my new responsibilities. So, this is definitely a company that will back you and invest in you to learn new skills."
Mark is just one of many former apprentices who now hold senior roles within KCOM – a conveyor belt of local talent given the opportunity to flourish within a large and innovative local employer.
KCOM's approach perfectly encapsulates the theme of the 14th annual National Apprenticeship Week, which runs from 8 to 12 February, and this year is calling on employers to 'Build The Future'.
Launched with one eye on refiring UK Plc's economic engines after the effects of the coronavirus pandemic, National Apprenticeship Week is highlighting the need to invest in young people to create the skills and knowledge the country will need in the near future.
It is this approach that KCOM is already committed to, with the company viewing the development of apprenticeship talent as a vital part of its People strategy.
Dale Raneberg, KCOM chief executive officer, said apprenticeships formed a key pillar of the business's mission to create jobs and opportunities for young people across the East Yorkshire and North Lincolnshire region.
He said: "It is an extremely challenging time for young people across our region right now as the coronavirus pandemic has reduced the employment and training opportunities available to them.
"We are committed to doing everything we can to reverse this trend by continuing to invest in local talent.
"We believe our apprenticeship schemes, alongside other opportunities we have created across the business such as internships and development programmes, are an important way to provide young people with a helping hand into what will be skilled and rewarding careers.
"Supporting skilled jobs here in the region for local people not only provides career opportunities but will also help boost the local economy and play a major role in the region's recovery post-Covid-19."
In 2020 KCOM took on its latest cohort of 10 engineering apprentices. Now six months into their roles as apprentice field, network, software and cyber security engineers, they have found their feet within KCOM and are quickly learning new skills.
Lewis Young, 22, of east Hull, is an apprentice network engineer.
"I was actually studying computer science at university before, but decided an apprenticeship was more 'me'." he says. "I always enjoyed the networking side of things more and I thought this apprenticeship offered a better chance to learn about that.
"I applied to KCOM because I'm from Hull and it's got a good reputation locally. It's nice that I can stay in this area and learn the skills I want without having to go and live somewhere else."
Lewis admits it's been a steep learning curve, but he's enjoyed the first six months of his apprenticeship. As well as playing an active role in the deployment of KCOM's new core network, he has attended manufacturers' training courses for cutting edge technology and participated in network design and overview sessions.
"It's amazing how quickly you learn though. When you walk into a server room for the first time it can be a bit daunting, but it's not long before you understand what it's all about. It's great that you get what very few people do – how the internet actually works and all the hard work that goes into making sure people can watch Netflix at home. It's a peek behind the curtain."
Fellow network engineering apprentice Adam Parker, 18, of west Hull, is also enjoying the challenge.
"I like the fact you're treated as an adult doing a job. I didn't want to go to Uni, I wanted to be out earning and starting a career," says Adam who is working towards Cisco and Juniper accredited qualifications.
"I've getting a real understanding of what my role is and where it can take me in the future. I'd definitely recommend an apprenticeship at KCOM. It's a great way to learn while working with people who are already experts in what they do."
Keep up to date with National Apprenticeship Week 2021 updates by following @Apprenticeships on Twitter, and National Apprenticeship Service on LinkedIn.