Group
By KCOM | 08 March 2021 - 2 min read
Lindsay sees bright future for women in tech at KCOM
To celebrate International Women's Day, KCOM's Head of Digital Lindsay Rodgers explains why more women are needed now more than ever to fill the UK's tech sector skills gap.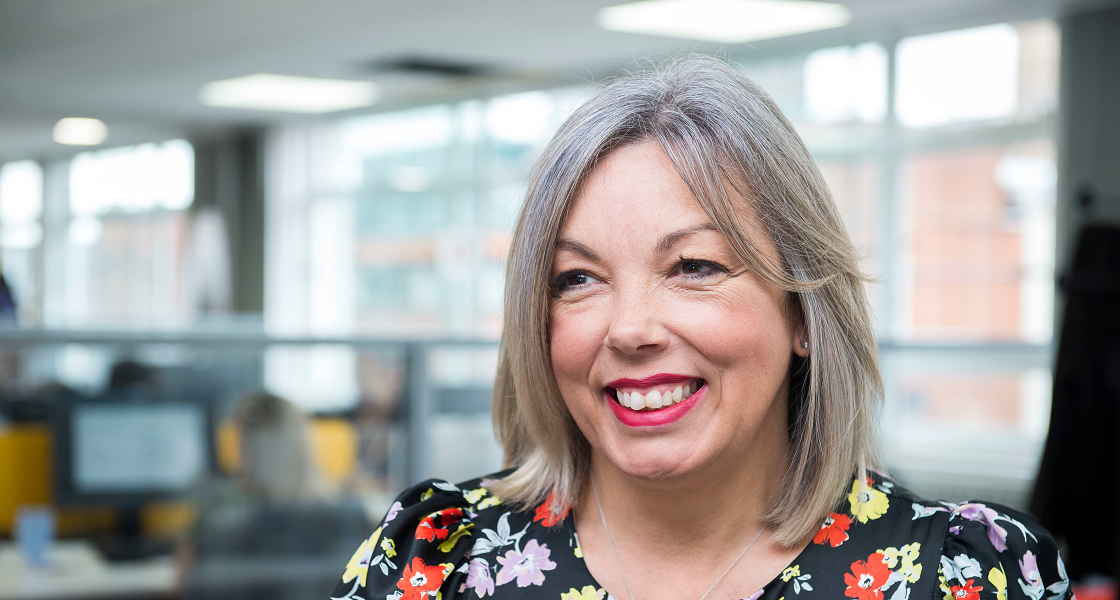 As KCOM's Head of Digital, Lindsay Rodgers is in charge of the company's IT and computer networks. She is also a governor at Hull's Ron Dearing University Technical College and a member of the Humber Digital Skills Partnership, part of the Humber Local Enterprise Partnership.
To celebrate International Women's Day, Lindsay explains why more women are needed now more than ever to fill the UK's tech sector skills gap – and how KCOM is helping to create career opportunities for women in IT and digital.
As KCOM's Head of Digital what does your job entail?
I'm responsible for a great team of people providing delivery and service for KCOM's group systems. I also have a wider remit setting KCOM's digital strategy and leading on our transformation from 300 aged legacy systems to a new strategic system stack. This will deliver fantastic customer and employee experiences and where possible, zero-touch processes that will make KCOM a great place to work and enable our growth plans.
What do you enjoy about working in tech?
I love making things better for people and using technology is a great way to do this. I also love the creativity involved in building really good solutions.
What would you say to other girls and young women thinking about careers in the tech and digital sectors?
It's not just about coding! It's collaborative and creative and most careers have a digital aspect to them so there are lots of varied opportunities.
Are there more opportunities for women in the tech sector now? Are we heading in the right direction?
Yes, definitely and not just working within the tech sector but as leaders within the sector. I didn't feel specifically 'different' because of my gender, for me it was more about behaviours and typically 'feminine' traits such as empathy, listening and coaching were seen as secondary to more direct leadership styles. This is changing and it's great to see these skills valued equally, if not more, as great leadership skills.
What does the future hold for women in the tech sector?
There is a big skills gap in general in tech and the fact that 50 per cent of our talent pool are not considering it as a career is a huge, missed opportunity. We have to keep promoting the varied roles available in tech and the fact that digital skills are becoming necessary in most roles within an organisation.
For International Women's Day, what other women have inspired you throughout your career/life and why?
This is a tricky question, I can honestly say that I didn't have any female role models in my early career. Today I am more and more inspired by the younger generation, both of my children hugely inspire me in the way that they absolutely expect equality and acceptance of diversity.
How has KCOM supported you in your career progression?
I've worked for KCOM for 28 years and I think this shows just how much I have felt supported and able to develop. I've been able to flex my working arrangements to meet what I needed whilst my children were younger. I've been supported in any training and development requests I've had and have been able to take advantage of mentoring in order to develop when I've moved into new roles which I have found extremely helpful.
Find out more about International Women's Day.
Visit KCOM's careers page for more information about careers in tech.