Community
By KCOM | 16 November 2020 - 2 min read
Local talent from Goodwin out innovates international competition at KCOM Innovation Hothouse challenge
KCOM Wholesale's Innovation House challenged teams from around the world to devise ground-breaking tech solutions to some of the most pressing problems created by the Covid-19 pandemic.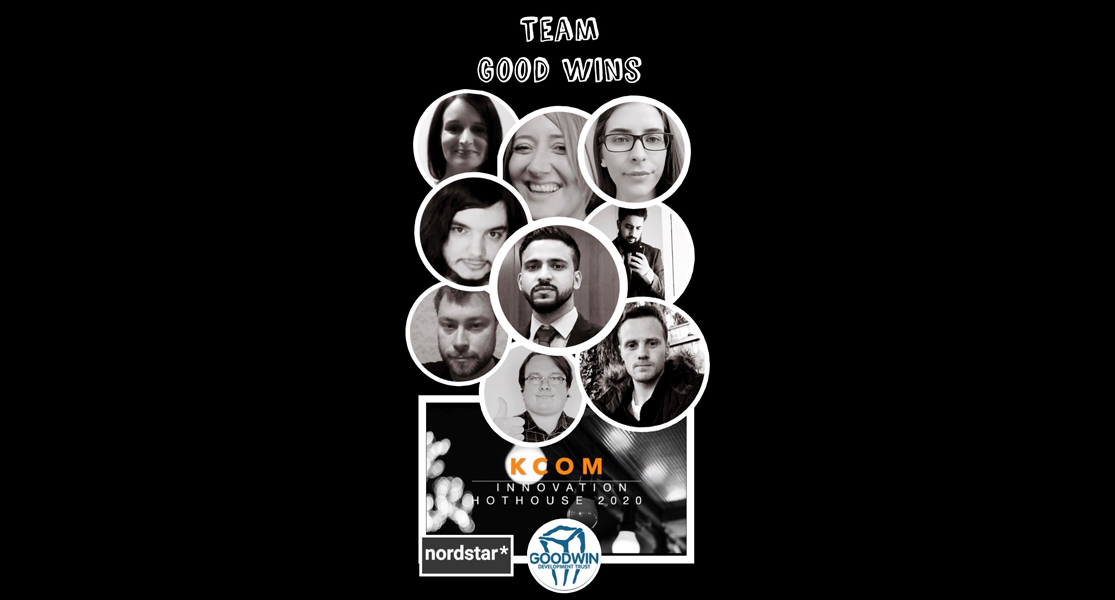 Dozens of teams took part in the competition, organised as part of the week-long Tech Expo Humber event, with groups from as far away as Italy and Vietnam all focussing on solving problems faced by the education and healthcare sectors.
One of the local tech teams representing Hull and East Yorkshire's burgeoning tech talent was the Good Wins, made up of young people from the Goodwin Development Trust – a local organisation committed to improving life for communities in Hull.
The seven-strong Good Wins team, all aged between 18 and 30, turned their attention to creating a tech solution helping people who have struggled to book GP appointments during lockdown because English is not their first language.
We caught up with Kerrie White, the Goodwin Development Trust's Diversity and Inclusion Lead, to find out more about her team.
Tell us more about the Good Wins Team
Good Wins was chosen as a name as the team was made up of eight young learners who are all currently participating in our Goodwin Training and Educational programmes. It felt apt as they are good and wanted to win! This team was supported by two staff facilitators and the ages of those taking part – Ahmed, Ash, Conor, John, Jordan, Luiza and Zowaid – ranged from 18 to 30-years-old.
Why did you decide to take part?
The Tech Expo team made us aware that the event was happening and we thought well why not give it a go? What a wonderful way to connect our aspiring youth to the business world in a meaningful way. 
How did you work together? Was it all online?
We decided that as we couldn't physically all be together due to Covid-19, the next best thing was to
use technology such as message and video calling apps. This helped us to brief and debrief each other and also to share ideas and designs easily with no time constraints. 
This really helped bring the team together as one. The team members were largely unknown to each other before the task but the support they gave each throughout the event was fantastic and really great to see. Everyone displayed a real team player attitude.
We were mindful we only had a few days to crack the challenge so we also decided from the outset to be honest and transparent with each other and that flexible working arrangements would be needed. Working together online made that possible.
What challenge did you work on?
After looking at both the education and health challenges we agreed collectively that the health problem statement captured our hearts and minds the most. We all felt confident that we could design a simple solution that would really help those who needed it.
Did the team enjoying taking part?
The team members really enjoyed taking part - and this was evident in their determination, commitment and overall collaboration from the start.
They've all valued this opportunity as an exciting platform from which they have had opportunity to learn, develop and grow.
They've been particularly impressed and enthused by the agenda, hosts' attitudes, speakers' insights and also humbled by the other teams' engagement and ideas. In fact, knowing that this 'hackathon' had attracted a global audience has made it a more exciting challenge. The team itself had said it's been a real opportunity to "raise the bar and step out of their comfort zones".
Their confidence visibly soared with each session and it was amazing to facilitate and support their journey and watch their design thinking grow. 
What do you hope will come of taking part in the hothouse – would you like to see your tech solutions be taken on and developed further?
Other than the obviously wanting to win we also wanted potential for networking and collaboration beyond the event.
Personally as the team's co-facilitator, alongside my colleague Rachel, I wanted empowerment for all. We agreed from the start that this would be a wonderful way to connect the business world with the talented, innovative, creative and inspiring minds that we have the joy of working alongside in our young people.
We also held high hopes that this would help to grow confidence and aspirations in "career seeking" team members. Without a doubt this has been achieved! 
And finally, what do you think of the Innovation Hothouse generally?
What can I say? It's been an amazing opportunity to have been a part of. The actual delivery, hosting, speakers and team engagement has all been top notch. Personally, as a champion for social mobility and inclusion, this model has proved to have had a real measurable and tangible impact on our learners and should be rolled out further.
I would go as far as to say it has sparked my own plans for future business engagement – so, watch this space! The Innovation Hothouse principles and purpose were inspiring. 
A massive thanks to all involved in this and 'wow' - what a platform supporting progression for all.