Retail
By KCOM | 01 February 2017 - 15 min read
Name a KCOM van: The results are in…
At the start of 2017, Hull's year as the UK City of Culture, we decided to name our vans after famous Hullensians - people who've contributed significantly to our city - and the region's well-known landmarks.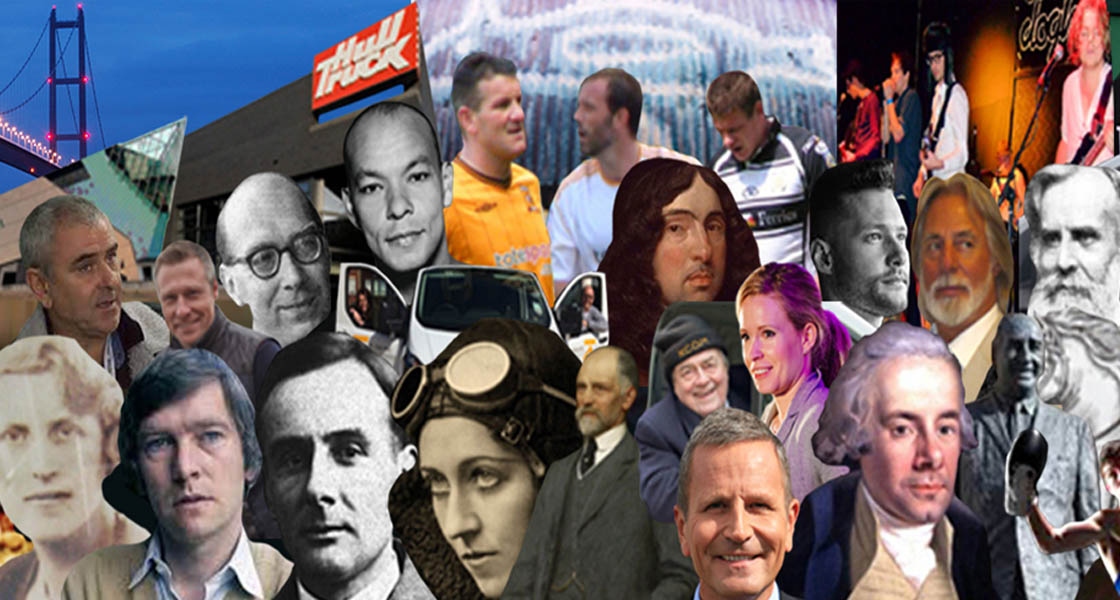 We're rather proud of our Hull heritage. And we're also proud of all the great Hullensians who have made their mark, often changing the world for the better.
We asked you, the good people of Hull and East Yorkshire, to vote for who or what you thought was worthy of this honour. The call out for nominations was a huge success with hundreds of local heroes suggested.
In fact, it was such a hit that when we expanded our fleet in 2018 we needed another dozen star names to adorn the sides of our new vans. And again you rose to the occasion with some very worthy additions to the KCOM van roll of honour.
Thanks for all of your entries, the full list of successful nominations, split into various categories, can be found below.
---
Culture
Philip Larkin: Van 30 The legendary poet and former University of Hull librarian deserves his place on the list of figures who have contributed significantly to cultural life in the city. Coventry-born Larkin, who died in 1985, was chosen in a 2003 Poetry Book Society survey as Britain's best-loved poet of the previous 50 years, and in 2008 The Times named him Britain's greatest post-war writer. His enduringly powerful poetry include The Whitsun Weddings, High Windows and Toads.
Mick Ronson: Van 70 This former Hull City Council gardener was born on Beverley Road and cut his teeth in local bands such as The Mariners and The Crestas before hitting the big time alongside David Bowie in Ziggy Stardust And The Spiders From Mars. Mick was instrumental to the success of the band with Bowie saying the Ziggy and Mick duo were "every bit as good as Mick and Keith or Axl and Slash". The guitarist went on to record five solo albums, co-produce Lou Reed's seminal Transformer album and work with a host of other major stars.
The Beautiful South: Van 10 Formed out of the ashes of The Housemartins, The Beautiful South became the biggest band ever to come out of Hull. Featuring the vocal talents of Paul Heaton and Dave Hemingway alongside the songwriting skills of guitarist Dave Rotheray, the band enjoyed 19 years as "everyone's second favourite band" before splitting due to "musical similarities" in 2007. Also key to the group's success were singers Brianna Corrigan, Jacqui Abbott and Alison Wheeler, drummer Dave Stead and Sean Welch. The group's hit singles include classic tracks such as Song For Whoever, You Keep It All In, Old Red Eyes Is Back, Rotterdam and Perfect Ten.
Stevie Smith: Van 17 Poet and novelist Florence Margaret "Stevie" Smith was born in Hull in 1902 and published her first work of fiction Novel on Yellow Paper in 1936 and her first volume of poetry, A Good Time Was Had By All, in 1937. The acclaimed writer went on to publish nine other volumes of poetry in her lifetime and two other novels Over The Frontier and The Holiday. But her CV doesn't end there: she also masterminded the opening ceremony of the 2013 Tour de France Grand Depart in Leeds and organised events for the Mayor of London's office.
Maureen Lipman: Van 3 The famous actor, writer and comedian is as close to Hull royalty as you get. The daughter of tailor Maurice, who had a shop near Monument Bridge in Hull, Maureen attended Newland School for Girls in Hull before leaving to study at the London Academy of Music and Dramatic Art. The Olivier Award-winning performer has appeared in countless TV shows and films and was awarded an honorary doctorate from the University Of Hull in 1994
Alan Plater: Van 57 Playwright Alan Plater CBE moved to Hull with his family in 1938 at the age of three. The Hull City supporter wrote for many of the best-loved TV shows of his era including police drama Softly, Softly, Z-Cars, Oh No, It's Selwyn Froggitt! and the acclaimed Beiderbecke Trilogy. He was named a Commander of the Order of the British Empire for services to drama in 2004.
The Paddingtons: Van 5 This Hull post-punk rock band were at the crest of the DIY scene during the noughties and scored two Top 40 albums, First Comes First and No Mundane Options. The fivesome, made up of singer Tom Atkin, guitarists Marv Hines (later replaced by Stuee Bevan) and Josh Hubbard, bassist Lloyd Dobbs and his drummer brother Grant, scored two Top 40 singles including Panic Attack and 50 To A Pound in 2005.
Reece Shearsmith: Van 6 The Hull actor has cornered the market in macabre comedy, starting with The League Of Gentlemen through to Psychoville and Inside No. 9. As well as writing his own hit comedies, Reece has also appeared in straight acting roles including Ben Wheatley's disturbing English Civil War horror homage A Field In England and drama The Widower. He was awarded an honorary doctorate by the University of Hull in 2013.
David Whitfield: Van 58 David Whitfield became the first British singer to have a hit number one single in the UK and the US with his song Cara Mia in 1954. Born in Hull in 1925, David sang in his local church choir as a boy before signing up to the Royal Navy in the Second World War. After the war he appeared on Opportunity Knocks which launched him as an international star, reaching the top 10 of the UK charts with songs such as Answer Me and Bridge Of Sighs. A statue of the singer now takes pride of place in Kingston Square outside Hull New Theatre.
Richard Bean: Van 7 Most recently Richard Bean has been receiving rave reviews for his 1642-set English Civil War comedy The Hypocrite, which was staged at Hull Truck as part of the 2017 City of Culture celebrations, but Richard's acclaimed work stretches back decades. The former Hull Grammar School boy's first play, Toast, recalled his days working the nightshift in a Hull bread factory while his hit comedy One Man Two Guvnors was the toast of both the West End and Broadway.
The Housemartins: Van 13 What a good place to be, on the side of a KCOM van. The Hull-forged Housemartins had a string of hits in the early 1980s with songs such as Happy Hour, Me And The Farmer and their only number one Caravan Of Love. The band also provided the first taste of the big time for singer Paul Heaton and Norman "Fatboy Slim" Cook.
Patricia Bredin: Van 14 Singer and actress Patricia Bredin was the UK's first ever entry in the Eurovision Song Contest in 1957. She came seventh out of 10 entries performing the song All which, incidentally, was the first song to be sung in English in the competition. She also appeared in several films including Light Right and Centre, The Bridal Path and The Treasure Of Monte Carlo.
Lucy Beaumont: Van 15 The Hull-born comedian cut her teeth on stage in Hull before launching herself into the nation's consciousness with her homespun tales of slightly ditzy life by the Humber. Described by critics as the natural heir to Victoria Wood, Lucy won the BBC Radio New Comedy Award in 2012 and now stars in her own sitcom To Hull And Back on Radio 4.
Sir Brian Rix: Van 59 Born in Cottingham, Sir Brian Rix CBE led a highly successful three-decade career as an actor on both stage and screen, specialising in comedy farces. But it is for his tireless work as a disability campaigner after retiring from acting that he will perhaps best be remembered. Brian's work as the chairman and later President of Mencap, campaigning to make life better for disabled people, managed to affect national government policy on many occasions and would earn him a place in the House of Lords, where he sat as a crossbencher, a CBE in 1977 and a knighthood in 1986. He was also awarded 10 honorary degrees and five fellowships at universities across the country. A most deserving son of the city.
Calum Scott: Van 16 Hull's latest home-grown pop star leapt to fame with his version of Dancing On My Own, which was recorded in his bedroom and went on to be a number one hit in six countries including the US. A Britain's Got Talent finalist in 2015, the future looks bright for this rising star.
Chris Hees: Van 40 This talented Oscar-nominated filmmaker from east Hull is making a major name for himself in the movie industry. Chris scored a Bafta for the animated film The Bigger Picture, which he produced, and is now working on a number of Hull-related big screen projects.
Andrew Marvell: Van 54 A poet and parliamentarian Andrew Marvell is one of Hull's most famous sons. Born in Winestead, in Holderness, in 1621, Marvell moved to Hull when his father was appointed as lecturer at Holy Trinity Church. He was elected as Member of Parliament for Kingston Upon Hull in 1659 and re-elected in 1660 and 1661. He also served as London agent for the Hull Trinity House, the shipmasters' guild that still exists today. Among Marvell's most famous poems are To His Coy Mistress, An Horatian Ode, The Garden and Flecknoe.
Len 'Pongo' Rood: Van 54 Len "Pongo" Rood was the man responsible for perhaps the most famous artwork ever to come out of Hull - and it isn't in the Ferens. It was trawler skipper Pongo and engineer Gordon Mason who painted Dead Bod during the 1960s as a "prank". The drawing, of a deceased bird, has stood the test of time and even became a navigation point for ships traversing their way up the Humber. Now the mural has been saved for posterity and taken up its rightful place among other pieces of art in the Humber Street Gallery.
Dan Billany: Van 55 Writer Dan Billany joined the army in 1940 and became an officer in the East Yorkshire Regiment. He was captured by the Germans in June 1942 and spent more than a year as a prisoner of war in Italy. Throughout the war he concentrated on his writing, producing two books, a thriller called The Opera House Murders and The Magic Door, a children's book. After Italy collapsed in 1943, Billany fled to the countryside and continued to work on his stories while hiding from the Germans. This manuscript The Cage and the Trap, was handed to a friendly local and posted to Billany's family after the war. It has since been hailed as "the greatest novel to come out of the war". In October he set off with three friends to cross the Apennine mountain range and was never seen again. He is presumed to have perished during the perilous crossing.
Barrie Rutter OBE: Van 41 Acclaimed actor Barrie Rutter OBE is best known as the founder of the Halifax-based Northern Broadsides theatre company which he set up in 1992. Hull born and bred Barrie studied at Greatfield High School before training at the Royal Scottish Academy of Music and Drama
Beryl and Betty: Van 60 Beryl Renwick and Betty Smith presented popular BBC Radio Humberside programme The Beryl and Betty Show for more than six years. The "Dynamic Duo" met at a lunch club in 1999 and first went on air in 2006 after meeting BBC producer David Reeves during a tour of the BBC Humberside radio station. Their weekly, hour-long show was a mix of music and chat and scooped a Radio Academy Award - the radio equivalent of the Oscars – in 2012, beating the likes of Frank Skinner in the process. Betty died aged 93 in 2014, while Beryl passed away a year later, aged 89.
Elsa Gidlow: Van 61 Poet, author, journalist, political activist, philosopher: it's hard to put a label on Elsa Gidlow as the Hull-born writer achieved so much during her life. Born in Hull in 1898, Elsa moved with her family to Quebec, Canada, at the age of six. She is best known for her 13 books, the first of which, On A Grey Thread, was possibly the first volume of openly lesbian love poetry published in North America. She mixed with many of the greatest artists, radical thinkers and musicians of the 20th century at the Bohemian community she co-founded at Druid Heights, in Marin County, California, until her death in 1986.
Everything But The Girl: Van 46 Named after a slogan on Turner's furniture shop in Beverley Road and made up of singer Tracey Thorn and guitarist Ben Watt, Everything But The Girl scored four top 10 singles and 12 top 40 singles in the UK. Their biggest hit, Missing, reached number two on the US Billboard chart in 1995.
Sir Tom Courtenay: Van 18 Born and raised in Hull, Tom Courtenay is arguably the most eminent actor ever to come out of the city. Among the Hull City fan's many acclaimed film roles are Billy Liar, The Loneliness of the Long Distance Runner, Doctor Zhivago, The Dresser and 45 Years. He was knighted for his services to cinema and theatre in 2001.
Sean McAllister: Van 20 This award winning Hull filmmaker has been bringing stirring and poignant documentaries to our screens for year. His film The Liberace of Baghdad received a 2005 Sundance Film Festival Special Jury award as well as the 2005 British Independent Film Award for Best British Documentary. Most recently Sean curated the opening Made In Hull spectacular that launched the city's year as the UK City of Culture and brought 350,000 visitors into the city centre.
Vanessa Hooper: Van 21 Hull-born ballerina Vanessa danced with the Royal Ballet and later with the Northern Ballet Theatre before making her West End debut. She now runs the Skelton Hooper School of Dance teaching the next generation of talented Hull ballerinas.
The Spiders From Mars: Van 91 The band that redefined rock music in the 1970s owes a lot to Hull. Featuring former Hull council gardener and legendary guitarist Mick Ronson, the band also included bassist Trevor Boulder and drummer Woody Woodmansey for one formidable rhythm section. The band helped power David Bowie to superstardom and create classic albums such as 1972's The Rise and Fall of Ziggy Stardust and the Spiders from Mars, Hunky Dory and 1973's Aladdin Sane.
John Godber: Van 33 Famous for writing hit comedies such as Bouncers, Teechers and Up 'n' Under, John Godber is said to be the third most performed playwright in the UK, after Shakespeare and Alan Ayckbourn. The son of a miner, the Bafta-winning writer is best-known in Hull for being the artistic director of Hull Truck Theatre for 26 years, from 1984 to 2010, and driving the company forward to the creation of its state-of-the-art £15m new home in Ferensway. He continues to write and tour productions of his plays around the country with his own company.
Roland Gift: Van 34 Roland enjoyed huge worldwide success as the lead singer of the Fine Young Cannibals, scoring hit singles with classics such as She Drives Me Crazy and Good Thing. Born in Birmingham, he moved to Hull aged 11 where he would later join his first band, a ska outfit called the Akrylykz. As well as his musical career Roland has branched out into acting and has appeared in films such as Sammy and Rosie Get Laid, Tin Men and Scandal.
Val Wood: Van 22 Described as Hull's answer to Catherine Cookson, Beverley-based Val is a best-selling author of historical romances set in and around Hull. So far the former model and ballroom dancer has penned more than 20 novels, from 1993's The Hungry Tide right up to 2016's No Place For A Woman.
Winifred Holtby: Van 62 Now best known for her novel, South Riding, Winifred Holtby was born on the family farm in the East Riding village of Rudston in 1898. Her early novels included The Crowded Street and The Land Of Green Ginger, inspired by the Hull street bearing the same name. Holtby's journalistic career saw her writing for dozens of publications including the Manchester Guardian and feminist journal Time And Tide, as well as publishing 14 books, including six novels and two volumes of short stories. An academy school named after Holtby can now be found in Bransholme, Hull.
Xander Parish: Van 35 As a youngster Xander dreamed of playing cricket for Yorkshire, but soon found out that his natural athleticism made him an ideal ballet dancer. After training at the Royal Ballet he became the first British dancer to join the Mariinsky Ballet, one of the "powerhouses" of world ballet in St Petersburg, Russia, where greats such as Rudolf Nureyev and Mikhail Baryshnikov made their names. In January 2017 Xander was awarded an honorary degree by the University of Hull.
Kevin O'Hare: Van 36 Hull-born Kevin is a retired ballet dancer and the current director of the Royal Ballet. The former St Charles's RC Primary School pupil was accepted into the Royal Ballet School in 1976. He graduated into Sadler's Wells Royal Ballet in 1984 where he was promoted to principal dancer in 1988. He retired as a dancer on his 35th birthday and went on to an illustrious career in company management.
Karen Okra: Van 36 Karen Okra is a community support worker who has lived in Hull all her life. Karen is a director of the Freedom Festival and a member of the Hull 2017 City of Culture's board. A community champion, she was instrumental in Hull's bid to become City of Culture, winning over judges with her passion to make 2017 a celebration of the arts that could improve the lives of people in all areas of the city.
Peppino Santangelo: Van 39 Peppino was the man who gave us the Hull New Theatre we all know and love today. The repertory theatre pioneer was brought in to reverse the fortunes of the flagging Little Theatre in the 1930s and quickly succeeded in making it a financial success. Described as having an "unquenchable enthusiasm and forceful character" Peppino then set his sights on the Assembly Rooms next door, amalgamating the two into what we now know as New Theatre. Despite the start of the Second World War the theatre opened in a blaze of glory on 16 October, 1939, and managed to keep going and throughout the war, lifting local spirits in the face of terrible privations.
Debra Stephenson: Van 38 Actor, comedian, impressionist and singer, there are no end to Debra's talents. Best known for her roles in Playing The Field, Bad Girls and Coronation Street, Debra is also a talented mimic who's impersonated a wide range of celebrities in shows such as Dead Ringers, The Impressions Show and Newzoids. She recently brought her one-woman show, A Night of 100 Voices, to Hull City Hall as part of the 2017 City Of Culture celebrations.
Shiela Mercier: Van 96 Sheila, born 1 January 1919, is a retired English actress. Born in Hull, she played Annie Sugden in Emmerdale for over 20 years between 1972 and 1994 and made 3 further appearances in 1995, 1996 and 2009.
The Gold Man aka Andy Train: Van 99 Hull's real life Mr Benn - many costumes, many adventures. After qualifying as a registered nurse, Andy worked in A&E in the 1990s and now provides resuscitation and first aid training to many healthcare staff. Andy came out in 2003 and joined the Hull & East Riding LGBT Forum and Pride team, bringing the first UK Pride to Hull in 2017. He is currently vice-chair and creative director of Pride in Hull, co-chair of UK Pride Organisers and InterPride director for the British Isles and Ireland. Andy has been portraying the Gold Man – a familiar sight in Hull - since 2008, developing it from an Edinburgh Festival stand-up comedy and street theatre experience. The Gold Man travelled from Hull's King Billy statue to King's Cross as part of the Hull 2017 campaign
Dave Mays: Van 100 A veritable legend on the Hull pub and club scene, Dave's love of a good night out started in 1978 when his dad took over the Tower and Regent club and – and the 13-year-old's appetite for the city's nightlife was whetted while watching revellers from the DJ booth. He has been running Hull venues for four decades and has been instrumental in energising the live music scene in the city. Thanks to Dave generations of music lovers have spent many an enjoyable night at Blue Lamp, The Welly, Fruit and The Polar Bear while, as a director of the Humber Street Sesh, he has helped create a vibrant new festival where Hull's fledgling bands can gain exposure to a wider audience.
The Hull 2017 volunteers: Van 108 How would Hull's year in the spotlight as the UK City of Culture have turned out if it hadn't been for this dedicated army of volunteers in their scandalous blue and shocking pink uniforms? The 3,500 volunteers were the friendly face of the 2017 celebrations, welcoming visitors to the city, giving directions to lost culture vultures and generally being a marvellous helping hand at every turn. As a Principal Partner of Hull 2017, KCOM loved every minute of UK City of Culture and salutes the volunteers who helped make it such a success.
---
Sport
Dean Windass: Van 9 A true local hero, Dean was famously released by Hull City as a trainee but was re-signed by the club in October 1991 following an impressive spell with non-league North Ferriby United. During the next four years, he became a cult hero on the Boothferry Park terraces but was sold to Aberdeen in 1995 to help ease the Tigers' financial troubles at the time. Stints with Oxford United, Bradford City (twice!), Middlesbrough and Sheffield United followed his time in Scotland before he made a return to the Tigers on loan in January 2007. That move was made permanent in June of that year and he went on to write himself into Hull City folklore by scoring the goal in the club's 1-0 Championship Play-off Final victory over Bristol City in May 2008. Dean retired from professional football in 2009 and currently works for the Tigers as their Club Ambassador.
Luke Campbell: Van 12 Luke shot to prominence at the 2012 Olympic Games when winning the bantamweight gold medal made him the most successful amateur in Great British history. His Olympic triumph led to him being awarded an MBE and joining the professional ranks where he has won 16 of 17 fights so far. Luke is the current Commonwealth Title and WBC Silver Lightweight title holder and aims to be world title holder by the end of 2017. Like fellow Hull boxer Tommy Coyle, Luke also has his own foundation which serves hundreds of local youngsters.
Nick Barmby: Van 8 The city's most decorated footballer, Nick started his career with Spurs before going on to enjoy spells with Middlesbrough, Everton, Liverpool and Leeds United. In the summer of 2004, he 'came home' to join Hull City and was a key player in a Tigers' side that secured promotion from League One to the Championship in 2004/05. Further success was to follow in 2007/08 as he played in the City team that beat Bristol City in the Championship Play-off Final at Wembley – the club's maiden appearance at the national stadium – and thus secured promotion to the promised land of the Premier League. Nick continued to play until taking over as the Tigers' caretaker player manager in 2011. He hung up his boots in 2012 having been appointed to the managerial post on a permanent basis. That spell was short-lived though and he left the club in May 2012. In all, Nick made over 500 career appearances and also had the distinction of earning 23 caps for England.
Johnny Whiteley: Van 23 'Gentleman John' spent his entire professional career with Hull FC having joined the club in 1950. During 15 seasons in the black and white shirt, Johnny made over 400 appearances and skippered the team to Championship glory in 1956. His international career was littered with success too as he played a role in Great Britain's Ashes Series victories over Australia in 1958, 1960 and 1962. Having retired from playing, Johnny headed into coaching and had spells with both Hull FC and arch-rivals Hull KR. He also coached Great Britain to an Ashes Series success in Australia in 1970 and was awarded an MBE in 2005 for services to rugby league and the community.
Jack Harrison: Van 47 A record-breaking rugby league player and World War One hero, John 'Jack' Harrison served both Hull FC and his country with distinction. Born in Hull and educated at Craven Street School, Jack was a talented athlete who joined Hull FC ahead of the 1912/13 season. He was a try-scoring machine and crossed the line 52 times during the 1914/15 campaign, a club record which still stands today. Jack played his final game for the club on Boxing Day 2016 and in all made 116 appearances in the black and white shirt, scoring 106 tries. With war ongoing, Jack (who had signed up as a cadet in 1915) was assigned to the 11th Battalion East Yorkshire Regiment (Hull Tradesmen) 6 Platoon in August 1916. His bravery in leading a patrol into no-man's land in February 1917 was rewarded with a Military Cross. Three months later, Jack was ordered to attack a wood near Oppy with the rest of his brigade. He single-handedly managed to take out a German machine gun emplacement which was pinning his brigade down but made the ultimate sacrifice in doing so. Sadly, his body was never found but Jack was posthumously awarded the Victoria Cross for his incredible bravery.
Colin Hutton: Van 48 A true rugby league legend, Colin joined Hull FC from Widnes in 1951 and became a major player for the black and whites, making over 250 appearances during a six-year spell with the club. He famously kicked a last minute penalty from the touchline to clinch the Championship Final for FC in 1956 as they beat Halifax 10-9 at Manchester City's Maine Road. In 1957 Colin crossed the east/west divide in the city to take over as coach at Hull Kingston Rovers. It was a position he held for 13 years with plenty of success before going on to also serve the club as a director, chairman and president. Colin was involved at international level as well and co-coached Great Britain to an Ashes series victory over Australia in 1962. In addition, he had a spell as the chairman of the Rugby Football League and was also a Life Vice President of the governing body. In 2000 he was inducted into the rugby league Hall of Fame and this was followed by being awarded the Freedom of the City of Hull in 2013. Colin sadly passed away in February 2017 but his legacy, especially at Hull KR, will live on forever.
Roger Millward MBE: Van 49 He may have been born in Castleford but it was in Hull where Roger Millward was to go on and become one of the all-time legends of rugby league. The talented stand-off's career started with his hometown club before he joined the Robins for a fee of £6,000 in 1966. Across 14 years in the red and white shirt, Roger made over 400 appearances scoring a club record 207 tries and kicking 607 goals in the process. Arguably his finest hour came in May 1980 when he led Rovers to a 10-5 victory over arch-rivals Hull FC in the Challenge Cup Final at Wembley. Incredibly, he played much of that game with a fractured jaw having been the victim of a late tackle early on in the piece. Following his retirement as a player, he went on to coach the Robins for 11 seasons, picking up six trophies along the way. Away from the domestic scene Roger was also a big success at international level with Great Britain and was a key figure in the team that took the Ashes away from the Australians in their own backyard in 1970.  Awarded an MBE in 1983 for services to rugby league, Roger was also inducted into the rugby league Hall of Fame in 2000. He sadly passed away in May 2016 having left an indelible mark on both Hull KR and the game of rugby league.
Clive Sullivan: Van 50 One of the few players to bridge the divide between east Hull and west Hull, Clive was adored by rugby league fans on both sides of the city. The flying Welsh winger made over 350 appearances for Hull FC and more than 200 appearances for Hull KR in a stellar career which also saw him score nearly 400 tries. He was a Challenge Cup winner with Rovers in 1980 when they beat Hull FC at Wembley and then turned out for the black and whites at the age of 39 as they beat Widnes in the 1982 Challenge Cup Final replay at Elland Road. Clive broke new ground in 1972 when he became the first black captain of any British national sporting side. In that role, he led Great Britain to glory as they were crowned as World Champions after beating Australia in the World Cup Final. Clive's life was tragically cut short by cancer at the age of 42 and he was held in such high regard that the main road into Hull was renamed the Clive Sullivan Way in his honour.
Ebenezer Cobb Morley: Van 51 Regarded as the 'father of the Football Association', Ebenezer was born on Princess Street in Hull in 1831. Having qualified in law, he moved to London where he practised as a solicitor and took a keen interest in football. It was his passion for the game that led him to write to the Bell's Life newspaper suggesting that football needed rules. This led to the meeting of representatives of a dozen London and suburban clubs at the Freemason's Tavern in London on 26 October 1863 at which the Football Association of England was formed. From his living room at home in Surrey, Ebenezer drafted the first laws of the game and was subsequently elected as the first Honorary Secretary of the Football Association in 1863. It was position he held for three years before going on to serve as the President of the FA for a further seven years.
Jack Hale: Van 52 Born and bred in Hull, Jack was a swimmer of some distinction who once held world records in both the butterfly and the backstroke. He competed in the 1948 Olympics in London but was hampered by injury. Jack then missed the opportunity to represent his country at the 1952 Olympics after he sustained broken ribs following an incident when a diver landed on him. After retiring from competitive swimming, Jack worked alongside his wife Valerie as they taught children in the city to swim. In 1999, after nearly 40 years of teaching, Jack and Valerie retired from the pool. Jack passed away aged 85 in March 2008.
Steve Prescott: Van 53 He may not have been born in Hull, but Steve was certainly looked upon as an adopted Hullensian. In his two spells with Hull FC, he was taken to the hearts of the black and white supporters thanks to his talent, bravery and dependability in the fullback position. Steve joined FC from his hometown club St Helens ahead of the 1998 season and scored 15 tries in 40 appearances during a two-year stint. He then moved on to Wakefield and spent just one campaign in West Yorkshire before returning to the black and whites in 2001. In the three seasons that followed he bagged 41 tries in just 67 games, also kicking 134 goals along the way. A knee injury sustained whilst representing Lancashire in a 'War of the Roses' clash against Yorkshire unfortunately signalled the end of his career, forcing him to retire ahead of the 2004 season. It had been some career though as he'd won the Super League title (1996) and two Challenge Cup finals (1996 and 1997) with St Helens, whilst also representing England and Ireland at international level. Following his retirement from the game, Steve went on to work as a teacher at Hull College where he lectured in PE and also coached the college rugby league team. Sadly, in 2006, he was diagnosed with Pseudomyxoma Peritonei, a rare form of cancer. Despite this devastating news, Steve took a positive approach and decided to raise as much money as he could for the Christie Hospital in Manchester (one of the world's leading cancer hospitals) and the Rugby League Benevolent Fund. The Steve Prescott Foundation was established on the back of this incredible fundraising work and Steve showed unbelievable courage and selflessness to raise thousands of pounds through a host of physical challenges. In 2009 he was awarded an MBE and in typical Steve style was quick to praise everyone around him. He continued to battle his illness with the utmost dignity and bravery before sadly passing away in November 2013. Not only was Steve a hero in St Helens and Hull; he was a hero across the rugby league family. Steve's name and legacy will continue to live on through the inspirational work of his Foundation.
Lee Radford: Van 25 During a successful playing career, Lee had two spells with his hometown club, Hull FC, which were split by an eight-year stint with Bradford Bulls where he was a Grand Final and World Club Challenge winner. Having retired from playing in 2011, he took up the assistant coach role at Hull FC and remained in that job until taking over as Head Coach at the start of the 2014 campaign. During the past three years Lee has built a platform for success which culminated in the black and whites winning a Challenge Cup final at Wembley for the very first time in 2016. That triumph in the London sunshine means that his name will go down in Hull FC folklore!
Peter 'Flash' Flanagan: Van 56 With 414 appearances in a 14 year spell with the Robins, it's easy to see why Peter 'Flash' Flanagan is regarded as a Hull KR legend. Having been spotted playing hooker for Craven Street Youth Club, 'Flash' was invited for a trial with the Robins' reserve side and the rest, as they say, is history. He made his first team debut for the club when still a teenager in October 1960 and made an instant impression. His form earned him an England call-up in 1962 and that was quickly followed by a debut for Great Britain. During his career, 'Flash' toured twice with Great Britain (1966 and 1970) and was also part of the 1968 World Cup squad. After his days with Rovers came to an end, he made 20 appearances for Hull FC to help ease an injury crisis. However, it's the east side of the city where he'll forever be revered.
Ken Wagstaff: Van 26 Voted as Hull City's greatest ever player during the club's centenary celebrations in 2004, it's fair to say that 'Waggy' is a bona fide black and amber legend. After bursting onto the scene at Mansfield Town, Ken joined the Tigers for a fee of £40,000 in November 1964. It proved to be a shrewd piece of business as he formed a devastating partnership with fellow striker Chris Chilton and went on to net 173 times in 378 appearances. Those goals helped the Tigers to the Third Division title in 1965/66 and many believe that Ken (and his striker partner) were unlucky not to be capped by England at senior level. Having left the Tigers in the mid-1970s, Waggy enjoyed a brief spell as a player-coach with the Sunshine George Cross club in Melbourne before returning to Hull where he became a successful publican.
Raich Carter: Van 65 Some people are just multi-talented and Horatio Stratton Carter (Raich to his friends!) was one such person. As well as being a gifted footballer, he was also a handy cricketer who represented Derbyshire at first class level. Raich started his football career at Sunderland where he captained them to the First Division title in 1936. A year later, he added an FA Cup winners' medal to his collection, scoring the second Sunderland goal in a 3-1 final triumph over Preston North End. Following a move to Derby County, he collected another FA Cup victory in 1946 before arriving at Hull City for the princely sum of £6,000 two years later. Although in his mid-thirties by that time, Raich still had plenty to offer. Signed purely as a player he found himself in the player-manager role at Boothferry Park shortly after his arrival following the resignation of the then manager, Major Frank Buckley. It was a challenge but one that Raich rose to as he led the Tigers to the 1948/49 Division Three (North) title. The years that followed were frustrating ones though and Raich resigned from his position in 1951. But that wasn't the end of his association with the Tigers as he was tempted back into playing just weeks later and played his part in helping the side avoid relegation back to the third tier. What shouldn't be forgotten amongst all of this is that Raich also played for England 13 times in what was an amazing career. He sadly passed away aged 80 in 1994 but his memory lives on at the National Football Museum where his career and achievements are celebrated as a member of the Hall of Fame. Raich also has a road named after him in the city; a permanent reminder of the contribution he made to Hull City.
Chris Chilton: Van 28 Born in Sproatley, Chris gave 11 years sterling service to Hull City and is the club's record all-time goalscorer with 222 from his 415 appearances. Alongside strike partner Ken Wagstaff, 'Chillo' terrorised opposition defences up and down the country, turning down offers from the likes of Spurs and Leeds United to stay loyal to the Tigers. He left Boothferry Park in 1971 and had spells with Coventry City and Highlands Park, in South Africa, before retiring from playing in 1978. Chris served as the Tigers' Assistant Manager under both Colin Appleton and Brian Horton, and also had a brief spell as caretaker-manager following the sacking of Mike Smith. He also took charge of the youth team and played a role in developing the likes of Steve McClaren, Brian Marwood and Billy Whitehurst.
Guy Smith: Van 24 Racing car driver Guy originally hails from Beverley where his talent on four wheels was apparent from an early age. He started racing karts at the age of seven, winning four championships and four runner-up titles before progressing to the Formula Ford competition aged just 17. Perhaps the most prestigious win of his racing career came in 2003 when he took the chequered flag at the Le Mans 24 Hour race in his Bentley Speed 8 racing car for Team Bentley. He has since raced successfully on both sides of the Atlantic and continues to be a force to be reckoned with.
Cliff Britton: Vann 66 As a footballer, Cliff forged a successful career which started at Bristol Rovers and took him to Everton where he was to make over 200 appearances between 1930 and 1938. He was also capped by England nine times. When his playing days ended, he turned his talents to management and took charge at Burnley, Everton and Preston North End before arriving at Hull City in 1961. He slowly built an impressive squad and success arrived as the Tigers were crowned as Third Division champions in 1965/66. That was to be the highlight of his time in charge and in May 1970, after more than 400 games at the helm, Cliff was replaced by Terry Neill.
Brian Bulless: Van 69 A local lad with a real passion for Hull City, Brian signed for the club in 1952. The talented midfielder was to quickly become a fans' favourite on the Boothferry Park terraces and was part of the promotion-winning Tigers' side in 1958/59. By the time he retired in 1963, Brian had amassed 326 appearances for the club, scoring 36 goals. A founding member of the Ex-Tigers' Association which is still going strong to this day, Brian sadly passed away in 2016.
Ian Ashbee: Van 4 Born in Birmingham but now an adopted 'Hullensian', Ian is revered in Hull as the man who skippered Hull City to three promotions during a stellar nine year career in the black and amber. Signed from Cambridge United in the summer of 2002, Ashbee became a cornerstone of the City team as it embarked on an incredible journey that would take the club from the bottom division of English football to the Holy Grail of the Premier League. A no-nonsense central midfielder, Ian made over 240 appearances for Hull City and is one of just four players who have represented the club in all four divisions.
Danny Houghton: Van 29 Born and bred in Hull, Danny made his debut for Hull FC in 2007 and has since gone on to become a real hero with the club's supporters. Due a well-earned testimonial in 2017, Houghton is an integral part of the FC team and was the winner of the Steve Prescott Man of Steel Award last year – the first Hull FC player to carry off that prestigious award. He's guaranteed a place in Hull FC history having been part of the side that won the Challenge Cup in 2016. Danny also denied Warrington victory in the dying seconds of that Wembley final with what has become famously known as 'Tackle 52'.
Tommy Coyle: Van 11 Known affectionately as 'Boom Boom', Tommy made his debut as a professional boxer back in 2009. It was a winning debut and he has gone on to record a total of 23 victories from 27 career fights. One of Tommy's four defeats came against fellow Hull boxer Luke Campbell when the two met in front of a big crowd at Hull KR's stadium in August 2015. A proud Hull lad who is always keen to give something back to the community, Tommy has also set up his own foundation which aims to inspire local youngsters and give them a head start in life through the power of sport and education.
Barbara Buttrick: Van 32 Cottingham-born Barbara was a trailblazer in the sport of women's boxing. Nicknamed "the Mighty Atom", 4ft 11in Barbara started her fighting career at the age of 18, touring Europe in carnival boxing booths to show her pugilistic prowess. She moved to the US to pursue her dream of boxing professionally, eventually rising to become the world's unbeaten flyweight and bantamweight champion from 1950 to 1960. Barbara's life story has been turned into a play at Hull Truck theatre as part of the 2017 City of Culture programme.
Karen Briggs: Van 92 Hull-born Karen was one of Britain's greatest Judo competitors, representing Great Britain at the 1992 summer Olympics, the first year women's Judo was included as an Olympic sport.
Phil Lowe: Van 19 A fearsome second row forward, Phil is a Hull KR legend having made over 400 appearances for the club between 1967 and 1983. In a glittering career he also spent three seasons with Australian club Manly-Warringah where he was part of the side that won the 1976 Grand Final. Phil was capped 12 times at international level with Great Britain and was a World Cup winner with them in 1972 – the last time Great Britain were crowned as World Champions. Still involved as a board member, Phil will celebrate a 50-year association with Hull KR during 2017.
---
Politics
Lord John Prescott: Van 1 Born in Prestatyn, Wales, but synonymous with Hull which he served as MP for 40 years, John Leslie Prescott's life is an incredible story of rising from humble working class roots to the pinnacle of British politics. The son of a railway signalman, John started his career as a ship steward in the merchant navy before finding his vocation in politics as an official in the National Union of Seamen. He entered Parliament as the MP for Hull East in 1970 and has remained a passionate champion for the city ever since. Following the Labour election landslide in 1997, he was named as deputy Prime Minister with an expanded brief as Secretary of State for the Environment, Transport and the Regions. He retired as an MP in 2010 before entering the House of Lords as a life peer with the title Baron Prescott, of Kingston upon Hull.
William Wilberforce: Van 72 A towering figure in British political history, William Wilberforce was the leader of the movement for the abolition of slavery. Born in Hull in 1759, Wilberforce served as an independent MP for Yorkshire between 1784 and 1812. He headed the parliamentary campaign against the British slave trade for 20 years until the passage of the Slave Trade Act of 1807. In later years Wilberforce supported the campaign for the complete abolition of slavery, and continued his involvement after 1826, when he resigned from Parliament because of ill health. That campaign led to the Slavery Abolition Act 1833, which abolished slavery in most of the British Empire. Wilberforce died just three days after hearing of the safe passage of the Act through Parliament. Tourists can still visit Wilberforce's home, which has been turned into a museum on High Street.
Alfred Gelder: Van 80 Knighted in 1903 for his services to architecture and to the city of Hull, Alfred Gelder is one of the visionaries who helped create modern Hull. Born in North Cave, the son of a wheelwright, Gelder set up as an architect and helped design many of the grand Victorian vistas the city now enjoys. Gelder served as the Liberal Mayor of Hull from 1899 to 1903 and as a councillor and later alderman of the city for 43 years. Alfred Gelder Street that runs along the side of the Guildhall now bears his name.
Sir William de la Pole: Van 93 The son of a wealthy merchant, Sir William was born in the East Yorkshire trading port of Ravenser Odd during the 1290s and moved to Hull as a young man to make his fortune trading in wool at the start of the 14th century. The De La Pole family would eventually become one of the most influential families in the country due to their links to the royal family and Sir William was appointed as the first Mayor of Hull in 1332, a position he held for three years. Sir William died in 1366 and his statue, which was created by a local sculptor in 1879, now resides on Nelson Street near the Fruit market.
Sir Leo Schultz: Van 82 Sir Leo Schultz (1900 - 1991) served as Hull City Council leader from 1945 to 1979 and his long-standing service to the city earned him the nicknames 'The Lion of Hull' and 'Mr Hull'. Perhaps his most telling contribution came shortly before the outbreak of WW2 when he convinced Hull City Council to build expensive bomb shelters across the city – a move which saved many, many lives. Sir Leo received an OBE in 1946 and was knighted for his services to local government in 1966. His 10ft bronze statue was unveiled at the Guildhall on Alfred Gelder Street in 2011.
Sir John Hotham: Van 83 In 1642 Hull governor Sir John Hotham refused to allow King Charles I entry to the city to access a large collection of weapons stored within its walls – an act of defiance which triggered the start of the English Civil War. Sir John was executed after being found guilty of treason in 1645. The story of Sir John's defiance was retold in Royal Shakespeare Company play The Hypocrite, written by Hull playwright Richard Bean and starring Games of Thrones actor Mark Addy and Men Behaving Badly star Caroline Quentin. The old Beverley Gate walls – where the historic standoff took place – are being restored as part of the Hull 2017 public realm works.
Sydney Smith: Van 86 Sydney Smith (1885 – 1984) became Labour's MP for Kingston upon Hull South West in the 1945 General Election and held the seat until the constituency was abolished five years later. London-born Sydney, who moved from Goole to Hull as an 18-year-old to set up a newsagent business, subsequently returned to local politics and received many accolades later in life, including an honorary doctorate from the University of Hull, while the now defunct Sydney Smith School in Anlaby was named in his honour.
Robert Greenwood Tarran: Van 87 Civil engineering contractor Robert Greenwood Tarran created Tarran Industries Ltd, which at the height of its success employed 10,000 people as a Ministry of Defence contractor. Robert was also an elected member of Hull City Council and served as the city's sheriff. He also acted as Hull's chief air raid warden during WW2, organising the evacuation of scores of civilians from Hull. He died in Hull in 1955.
Alan Johnson: Van 102 Former postman turned political heavyweight Alan served as the MP for Hull West and Hessle for 20 years between 1997 and 2017. A champion for Hull throughout his political career, Alan served in the Blair/Brown Labour Governments first as the Minister for Higher Education before rising the ministerial ranks to become Secretary of State for Work and Pensions, Secretary of State for Trade and Industry, Secretary of State for Health and finally Home Secretary. Alan has published three acclaimed volumes of memoirs, charting his rise from childhood poverty to the highest circles of Government. His books include This Boy: A Memoir of a Childhood in 2013, Please, Mister Postman in 2014 and The Long and Winding Road in 2016.
---
Philanthropy
Jean Bishop: Van 95 What else is there to say about the legendary Hull fundraiser Jean "Bee Lady" Bishop? Jean, who celebrates her 95th birthday in 2017, started collecting funds for Age UK 18 years ago and, so far, has raised more than £100.000. And there's no sign of this human dynamo in a bee costume slowing down as she's already set her sights on £200,000. In 2013 she was awarded a Pride of Britain Award, she's carried the Olympic torch and has even compared heights with Barbara Windsor.
Sir Thomas Ferens: Van 75 Thomas Robinson Ferens was a British politician and industrialist whose generosity and philanthropy can now be seen throughout Hull – not least in the magnificent Ferens Art Gallery, in Queen Victoria Square. He was the Member of Parliament for Hull East for 13 years and also served the city as a Justice of the Peace and as High Steward. An ardent supporter of women's rights and suffrage, Ferens was also a devout Wesleyan Methodist who helped establish Reckitt and Sons and made numerous large charitable donations throughout his life. As well as the Ferens Art Gallery he also donated £250,000 to help establish the college that would become the University of Hull.
Christopher Pickering: Van 79 Born in 1842 Christopher Pickering was another of Hull's great Victorian philanthropists. He made his fortune as a fish trade merchant and ship owner. In 1914 he founded a park, almshouses, a church and a children's home in west Hull. The park and almshouses still bear his name.
Hull 4 Heroes: Van 101 Founded by former Royal Artillery soldier Paul Matson, Hull 4 Heroes is a charity that seeks to help forces veterans and their families by providing support and a home when they need it most. After leaving the forces Paul found himself homeless for a period of time before managing to rebuild his life and then build a successful business. Inspired by the thought of giving something back, he volunteered to help build a "Veteran's Street" in Manchester as part of the DIY SOS TV programme – an idea that he has now brought to Hull. Since becoming a registered charity in 2016, Hull 4 Heroes has helped more than 50 veterans who have hit hard times and hopes to build more homes for deserving servicemen in the future. To find out more visit hull4heroes.com
Paul Spence: Van 104 In 2012 Paul Spence suffered a brain haemorrhage after an unprovoked attack during a night out in Hull, setting him on a long and challenging journey to recovery. His experiences convinced him that more needed to be done to help others who have suffered life changing brain injuries. Through his charity, Paul For Brain Recovery, Paul and his team provide advice and support to people of all ages across a broad spectrum of injuries and conditions. As Paul himself says: "I have walked the path of brain recovery and feel very lucky to have recovered well, and now I feel it's my duty to help others on the line of despair." For more information about Paul visit paulforbrainrecovery.co.uk
---
Landmarks
The Humber Bridge: Van 81 Is there a more iconic symbol of Hull than the Humber Bridge? This 2,220-metre single-span suspension bridge was the longest of its kind in the world when it opened in 1981- and even today is still the eighth longest. Today it carries around 120,000 vehicles per week and spans the River Humber. providing a vital link between East Yorkshire and North Lincolnshire.
The Deep: Van 2 Arguably Hull's most iconic building The Deep is situated at the confluence of the River Hull and Humber Estuary at Sammy's Point, on the site of the old Hull Castle built by Henry VIII. The Deep was one of several projects built around the country by the Millennium Commission – and one of the few that thrived – and has welcomed more than three million visitors since it opened in 2002. The striking triangular aquarium was designed by architect Sir Terry Farrell, who also designed the famous MI6 building and Charing Cross Station in London. Now home to thousands of marine creatures, including seven species of shark, loggerhead turtles and Gentoo penguins.
Hull Truck Theatre: Van 71 Founded in 1971 by director Mike Bradwell, Hull Truck Theatre started life in a rickety terrace house in Hull's Coltman Street, where the phone box outside served as the company's office. In the decades since the theatre has grown from the truck it originally took its name from and used to take its productions on the road into one of the city's cultural gems. For many years the theatre was based out of its Spring Street theatre where it staged many classic plays by artistic director John Godber, including Bouncers and Teechers. The theatre moved to its purpose-built £15m Ferensway venue in 2009 and, under the direction of Mark Babych, is playing a central role in the 2017 City of Culture celebrations. As part of 2017's Made In Hull season the theatre hosted Richard Bean's comedy The Hypocrite starring Mark Addy and Caroline Quentin.
The KCOM Stadium: Van 98 An iconic landmark on the city's skyline, the KCOM Stadium is home to both Hull City AFC and Hull FC rugby league club. The KCOM Stadium opened its doors on 18 December 2002, after more than five years of planning, when the Tigers took on Sunderland AFC with a friendly match to mark the occasion. City's Steve Melton scored the winning goal – the first to be scored at the £44m stadium. With a capacity of 25,400 the KCOM is the second largest rugby league stadium in the UK and, away from sport, is a busy destination for a variety of events and conferences. Since opening the stadium has also hosted its fair share of rock concerts from Bon Jovi and REM to The Who, Elton John, Neil Diamond, Bryan Adams and Rod Stewart.
KCOM Craven Park: Van 105 Hull Kingston Rovers moved to Craven Park in 1989 from the Old Craven Park which was situated on Holderness Road and has since become an iconic rugby league venue. Previously the home of Hull Vikings Speedway team, the stadium has undergone major redevelopment in recent years and now has a capacity of more than 12,000. On Good Friday 2018 a new Craven Park attendance record was set, beating the previous record of just under 12,000 against Leeds Rhinos. 12,090 packed the stadium to witness the derby match against cross city rivals Hull FC. During Hull's year as the UK's City of Culture 2017 Craven Park hosted a concert by former Beautiful South singers Paul Heaton and Jacqui Abbott called "Beauty in the East". In 2018 the stadium will host another chart-topping act, Little Mix.
---
Other
Amy Johnson: Van 77 What can we say about Amy that hasn't already been said? Hull's most famous daughter was a pioneering English aviatrix and the first woman to fly alone from the UK to Australia in 1930 on board her famous de Havilland Gipsy Moth biplane called Jason. This was just one of many great aviation achievements of Amy's career though. In 1931 she become the first pilot to fly from London to Moscow in one day, while she also made record breaking flights to both India and South Africa. Films, songs and even a Doctor Who adventure have all been dedicated to Amy's memory, while a statue dedicated to the pilot now stands on Hull's Prospect Street. A replica of her plane Jason is now suspended from the roof of Hull's Paragon Station as part of City of Culture 2017.
John Venn: Van 74 Celebrated mathematician, logician and philosopher John Venn is perhaps best known for the circular diagram that bears his name. John Venn was born on 4 August 1834 in Hull, the son of the Reverend Henry Venn, who was the rector of the parish of Drypool. His is commemorated by a building bearing his name at the University of Hull and by a stained glass window featuring one of his famous diagrams in the dining hall of Gonville and Caius College, Cambridge.
Vanny McVanFace: Van 94 If the British Antarctic survey can have Boaty McBoatface - one of the submersibles on board the polar research vessel the RRS Sir David Attenborough – then Hull can have Vanny McVanface. Look out for this plucky little Tuk Tuk alongside the fleet of ordinary KCOM vans.
Peter Levy: Van 63 The anchor man's anchor man. The Look North presenter is a well-known face in East Yorkshire for his appearances on the local evening news broadcast where he holds the great and good to account. An actor in his teenage years, he had small roles on shows including Dixon of Dock Green, Z-Cars and Open All Hours before settling on a career in broadcasting.
Joseph Rank: Van 76 Joseph Rank (1854 - 1943) was the founder of Joseph Rank Limited, once one of Britain's largest flour milling and bakery companies. A staunch Methodist and avid cricket fan, Rank rented a small windmill and started his own business in 1875. Ten years later he installed a mechanically driven flour mill at the Alexandra Mill in Hull, before building more mills near ports around England until he owned the largest flour milling business in Britain. A keen philanthropist, he established various charities which have now been consolidated into the Joseph Rank Trust.
Ronald Berry: Van 78 Air Commodore Ronald "Ras" Berry was a bone fide war hero and one of Churchill's "The Few" who helped win the Battle of Britain. The Spitfire pilot was only 23 in 1940 when, at the height of the Battle of Britain he shot down three Messerschmitts 109s in one day. Berry flew more than 400 combat missions during the Second World War and the Hull fighter ace was one of 14 members of the "Few" chosen to march at the head of Churchill's state funeral procession.
David Burns: Van 42 David "Burnsy" Burns is one of the biggest personalities in local broadcasting and the voice of Radio Humberside. Known for his football commentaries covering Hull City and his support of the local live music and culture scene, his mid-morning talk show sets the local news agenda.
Brian Bevan MBE: Van 27 In 1979 Humber Royal National Lifeboat Institution Brian, a superintendent coxswain at Spurn Point, became the only RNLI lifeboat man to be presented with Gold, Silver and Bronze Medals for gallantry. The medals were awarded for three separate rescues during the ferocious winter of 1978-79, with the gold medal for the rescue of the crew of the freighter REVI. He went on to appear on the BBC's Blue Peter and This Is Your Life.
Don Suddaby: Van 90 While working at East Yorkshire's Croda International, chemist Don Suddaby developed an oil to treat Lorenzo Odone, a child from Virginia suffering from adrenoleukodystrophy (ALD), a genetic disease which progressively destroys the brain of young boys. Lorenzo's story and Don's work was chronicled in the 1992 Oscar-nominated film Lorenzo's Oil, starring Nick Nolte and Susan Sarandon. Don played himself in the movie.
Sir Brynmor Jones: Van 67 Known as "the great educator", Sir Brynmor Jones served as the Vice Chancellor at the University of Hull from 1956 to 1972. He started influential research in the field of Liquid Crystals at the university and became Head of the Department of Chemistry in the 1930s. The university library, which was opened by the Queen Mother in 1960, is named after him.
King Edward I: Van 84 In 1296, King Edward I bought the settlement of Wyke from the monks of Meaux, as an investment and as a base to supply his troops to Scotland by sea. On 1 April 1299 King Edward I granted Hull a royal charter, renaming it King's Town upon Hull – which would eventually come to be known as Kingston upon Hull.
Lizzie Rose and Carl Wheatley: Van 31 The voices that Hull and East Yorkshire wake up to each morning as the hosts of the Radio Humberside breakfast show.
Joseph Hirst: Van 88 Joseph Hirst (1863 – 1945) was a leading architect of the UK's post-Victorian era and served as Hull City Architect from 1900 to 1926. Subsequently he designed some of Hull's most well-known buildings, including Hull City Hall, Trinity Indoor Market, Beverley Road baths and Hull Central Fire Station.
Professor George Gray: Van 73 George was a Professor of Organic Chemistry at the University of Hull and instrumental in developing the long-lasting materials which made liquid crystal displays – a key component of modern TV and computer technology - possible.
Joseph Boxhall: Van 89 Hull-born Joseph Boxhall was the fourth officer on the Titanic and survived the ship's sinking to row about 35 passengers and crew to safety in one of its life boats, after calculating the stricken ship's location in the Atlantic Ocean and firing distress flares. Following the disaster, Joseph served in the Merchant and Royal Navy until he retired in 1940. He died in 1967, aged 83, and his ashes were scattered at the last known position of the Titanic, coordinates he himself calculated on that fateful night.
Thomas Holme: Van 45 Thomas was appointed as the first general manager of the Hull Telephone Department in 1903. For the next 43 years Thomas managed the corporation telephone service, notably through two World Wars. He was responsible for the construction of the telephone system from the beginning and development of the network which would eventually become KCOM.
Reverend Alison White: Van 44 The Right Reverend Alison White is Hull's first female bishop – and only the second female bishop in the country. Alison was consecrated as a Bishop at York Minster in 2015 and is the 13th person to hold the title of Bishop Of Hull.
Zoe Chambers: Van 97 Inspirational Zoe Chambers was born in 2005 with a rare congenital heart disease. She bravely battled the condition before undergoing a heart transplant in 2007 which gave the youngster with the infectious smile an extra year of quality life with her family. Zoe's courageous fight helped to spearhead a campaign encouraging more people to sign up to the National Organ Donor Register and the toddler's story inspired 1.3 million to add their names to the list. Every year, 10,000 people in Britain need an organ transplant, including 182 children. 1,000 people die every year still waiting for a donor. It takes less than two minutes to sign up to the organ donation register, which you can do here.
Paul Schofield: Van 102 Known as Mr Hull, Paul Schofield has been providing guided tours of Hull and Beverley for the past three decades; his knowledge of the region's history is second to none. Born in Hull in 1961 Paul is a fully qualified English Heritage accredited guide. After attending Warwick University he returned home in 1982 before completing a guiding course at the University of Hull, and has been revealing the hidden treasures of Hull and Beverley whatever the weather ever since. His cheerful demeanour and treasure trove of historic facts earned him a place in the final of the Visit England Tourism Superstar Awards in 2017. He also gives numerous illustrated talks on topics of local history and has co-authored a book on Hull Kingston Rovers - or in his words, "the world's greatest rugby league team".
John Pywell: Van 106 One of the driving forces behind Hull securing the title of UK City of Culture, Jon Pywell was awarded the OBE in the New Year's Honours List for services to culture. Born and raised in Hull he remains a passionate advocate for the city and its regeneration through culture. He was educated at Bransholme High School - now Winfred Holtby - and the Universities of Leeds and Hull before going on to work for Hull City Council for 22 years, leading on cultural development, tourism and the management of strategic initiatives including developing the city as a world class visitor destination. A proper champion for his home city.
Conor Lynes: Van 107 Connor Lynes was just 14 when he suffered two strokes and a blood clot on his brain after being tackled while playing for his local rugby team. Connor, now 16, of Bransholme, has set up his own charity, Team Connor Lynes, and is giving others the chance of rehabilitation by raising money to provide equipment and support for brain injury groups across the UK. The inspirational teen has raised thousands for an interactive sensory room at Life for a Kid charity in Leonard Street, west Hull. The sensory room, brought over from the USA, is the first of its kind in the UK. Find out more about Connor and his fundraising efforts at teamconnorlynes.co.uk