News
By KCOM | 25 January 2023 - 3 min read
Bombyx blossoms with revolutionary approach to manufacturing
Hull business teams with C4DI and KCOM to shake up industry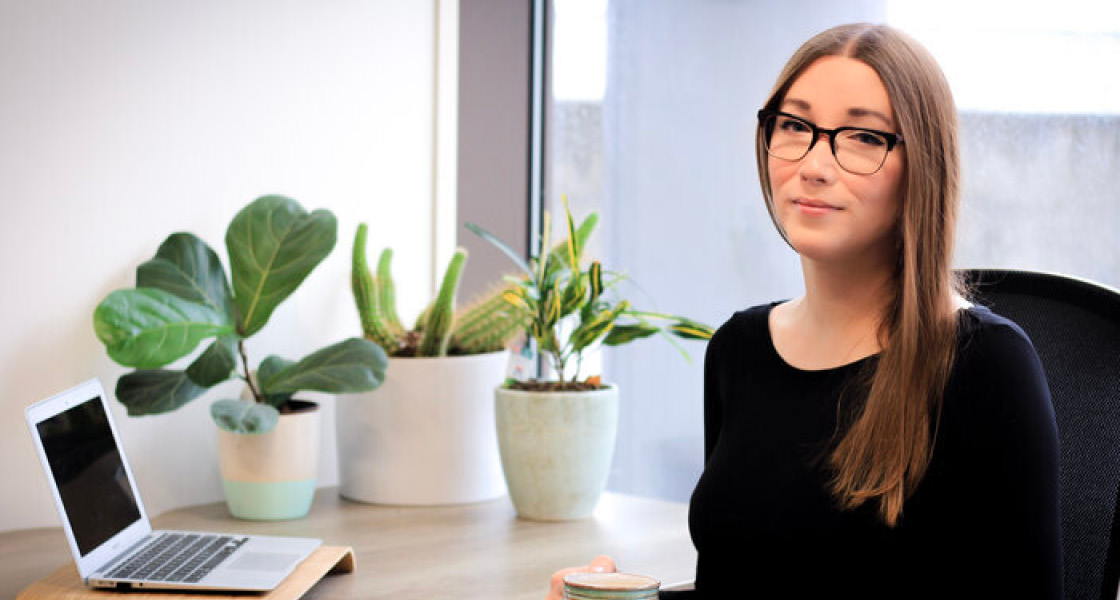 From small ideas great businesses grow – and Hull's Bombyx PLM is no exception.
Like the silk moth it's named after, Bombyx has emerged from its cocoon and blossomed into a leader in the world of Product Lifecycle Management (PLM) – a field that helps manufacturers track their products from the early concept and design stages through to manufacture and ultimately shop shelves.
It's the brainchild of CEO Lucy Blackley, who spotted a gap in the market while working as a clothing engineer for one of Europe's biggest retailing names in Berlin.
"I'd been working as a clothing engineer in the industry for about 12 years and was always stuck with broken systems; systems that were built by finance and IT people that had never really touched a product or understood the complexities around building a product," says Hull-born Lucy
"There was a lack of human touch within PLM software solutions. So, I thought, I'm going to start a business that fixes that, because there's lots of people in manufacturing like me who need something better.
"Bombyx PLM is a product lifecycle management software solution that brings together brands, suppliers and factories onto a single platform that's a single source of truth, where all the data is in real time for them to use to develop the products from concept to production, as well as extend it into product information management for e-commerce, digital asset management and other uses."
After returning to Hull in 2018, Lucy started turning her idea for a PLM software management solution into reality while working from her kitchen table.
"It was probably the hardest and best thing I have ever done in my life. For two years it was just me, a developer and my dog, but we've grown a lot since then." says Lucy, who now has a team of  20 people working out of two bases in Hull and India with a list of big name clients such as Cath Kidston.
After hearing about the Centre For Digital Innovation (C4DI), Hull's incubator for innovative tech start-ups, Lucy contacted its team based at Hull Fruit Market and was quickly brought onboard.
There, surrounded and supported by like-minded tech businesses, Bombyx has taken flight.
C4DI, with its tech start-up expertise, mentoring and world class connectivity, provided by KCOM's full fibre broadband, has enabled promising tech start-ups such as Bombyx to grow and establish themselves as international contenders far quicker than may otherwise have been possible.
"There is a huge tech community here. There are so many tech businesses and it's a big manufacturing area as well so, especially for Bombyx, Hull is a great place to get experience from people in areas that you maybe don't have.
"It's incredibly important to have reliable broadband," adds Lucy. "We work across two continents and in multiple different time zones with our customer base – so, for work, it's absolutely crucial. We couldn't do without it.
"KCOM have been in my life for many years, even going away, having that connectivity to my family and being able to stay connected with them through KCOM has been everything as I've grown in my career and moved around the world.
"KCOM allows me to work from the C4DI and stay connected with my team in India.
"I love what I do, I live for it. I am literally obsessed with manufacturing, My favourite part is  developing new ways of working that revolutionise the way in which manufacturing is happening.
"But we couldn't do it without our partners and growing with them is probably the best thing ever."
For more information about Bombyx PLM visit bombyxplm.com
To find out how C4DI can help turn your tech business idea into a reality visit c4di.co.uk
And to learn more about how KCOM's ultrafast connectivity can give your business an online advantage visit kcom.com