Group
By KCOM | 09 April 2021 - 3 min read
KCOM partners with local company ReWorked to cut PPE waste
Used PPE will be recycled into useful objects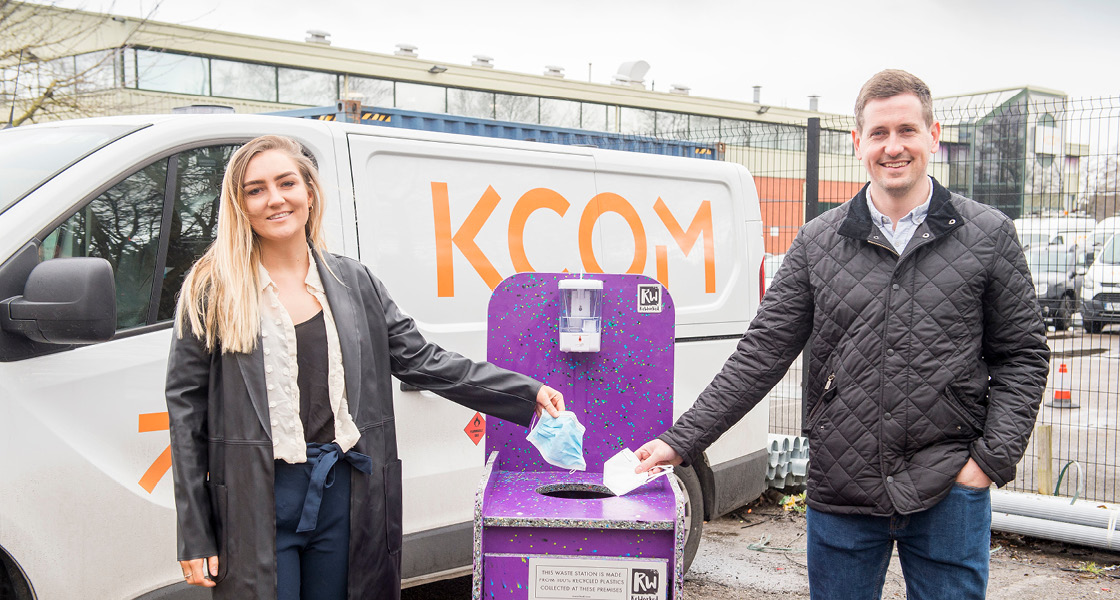 KCOM has taken the next step in its battle to eliminate environmental waste.
The East Yorkshire-based broadband provider has partnered with local recycling specialist ReWorked to install a new collection point for used Personal Protective Equipment (PPE).
Once deposited by KCOM's key worker engineers, the PPE is then collected by ReWorked and taken to its Hull recycling centre where it will be transformed into a range of useful products such as garden furniture and building materials.
Mark Blenkinsop, KCOM's head of CSR, said: "I'm delighted to have our new PPE recycling point installed and ready to help us continue to reduce our landfill waste.
"Our engineers are key workers who use a lot of PPE to keep our customers safe while out and about across East Yorkshire and North Lincolnshire, building vital new broadband infrastructure. This means we generate a lot of waste PPE that needs to be disposed of safely. This scheme is a fantastic way to give our used PPE a second life as useful household and garden products, ensuring nothing goes to waste.
"It's great to be able to do this in collaboration with a local company like ReWorked, meaning the waste doesn't have to travel far to be recycled, as well as boosting the region's economy."
Izzie Glazzard, ReWorked marketing manager, said: "We're excited to be able to support fellow Hull-based business KCOM in their efforts to reduce their waste footprint. With PPE being such a new waste stream, it's admirable to see KCOM acting so fast to prevent it from going to landfill - it really shows their core ethos as a company.
"The plastic waste material will go on to become building materials, furniture and even more PPE collection bins. We hope to further support KCOM's workforce in the future by creating furniture and practical items for their breakout and lunchtime areas, made out of the very waste they collect."
As well as recycling PPE, KCOM has initiated a series of other eco-friendly measures in recent years. These include introducing electric vans to its fleet of vehicles, reducing the reliance on mechanical cooling systems in equipment rooms and installing motion-activated LED lighting throughout offices.
Most recently KCOM has urged local companies to take part in a major survey to find out how the region's 30,000 small businesses are gearing up for the UK's Green Recovery.
The survey is being run by the Aura Innovation Centre and the University of Hull and seeks to understand how the region's businesses are preparing to 'build back better' after the challenges of Covid-19.
The survey, which takes just six minutes to complete, will discover how local firms are innovating and working towards meeting the 2050 Net Zero targets set by the UK Government on carbon emissions.
To take part in the survey visit www.aura-innovation.co.uk/speak-up