News
By KCOM | 27 January 2023 - 3 min read
Full fibre broadband arrives in Gunness with KCOM
Another village joins the full fibre revolution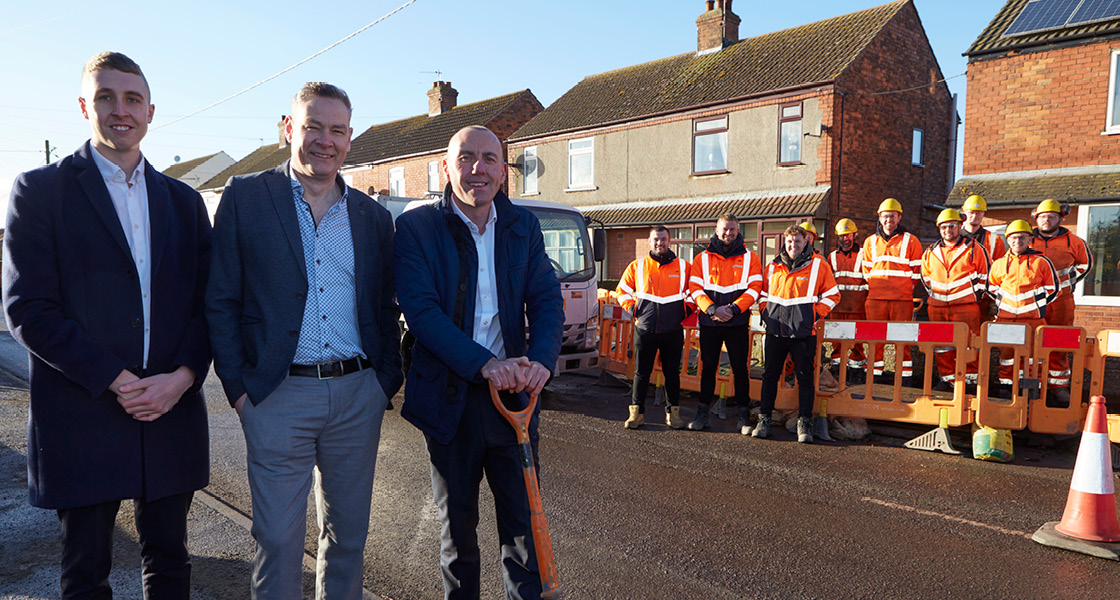 Hundreds of homes and businesses are set to have their online world transformed in the latest North Lincolnshire village to be connected to KCOM's full fibre network.
Work to connect the village of Gunness to KCOM's full fibre network is now underway as the award-winning provider sets out to deliver the benefits of one of the UK's fastest broadband networks to more than 360 properties.
Once complete, the engineering works will enable homes to stream, surf and download at speeds of up to 1Gbps while local businesses will be able to work more efficiently without the fear of buffering or calls with clients dropping out.
North Lincolnshire Council Leader, Rob Waltham MBE, said: "A quality broadband network is now an essential part of any community - people rely on fast internet.
"Especially now, with more people working from home, children doing their homework online and older people keeping in touch with their families, a good broadband connection is vital and that's why I welcome this investment in North Lincolnshire.
"There will be some disruption while the cables are installed but once the teams have gone, and the paths have been restored, the benefits will be huge.
"We are committed to enabling communities to flourish and this latest technology will help towards that."
Councillor Josh Walshe, who represents the Burringham and Gunness ward on North Lincolnshire Council, welcomed the arrival, saying: "There's been a real call from local residents for better broadband in the village so it's great to see KCOM have responded to the market and that we now see engineers on the ground.
"A better broadband network will be really welcome. I've spoken to a lot of local residents recently and the response has been really positive."
KCOM's arrival in Gunness is the first step in the recently announced £62m expansion of its award-winning network across North Lincolnshire and North Yorkshire. The expansion is set to bring the benefits of ultrafast broadband to 50,000 more homes and businesses within the next two years.
Among the other Lincolnshire communities KCOM is set to reach in the year ahead are Caistor, Louth, Market Rasen, Alford and Mablethorpe.
Neil Bartholomew, Managing Director of KCOM Retail, said: "It's great to see work underway to connect Gunness to our full fibre network which will transform local residents' online experience.
"There was a huge show of interest among villagers in bringing our network here and I'm delighted that we're now well on the way to connecting Gunness to what is one of the best full fibre broadband networks in the UK.
"We're determined to connect rural communities that have often been forgotten by the big national providers to make sure that no-one is left behind in this digital world and so everyone has access to the many opportunities being online can offer."