Community
By KCOM | 24 September 2021 - 3 min read
KCOM gets on its bike to raise money for North Lincolnshire charities
Cyclists take on road challenge for local good causes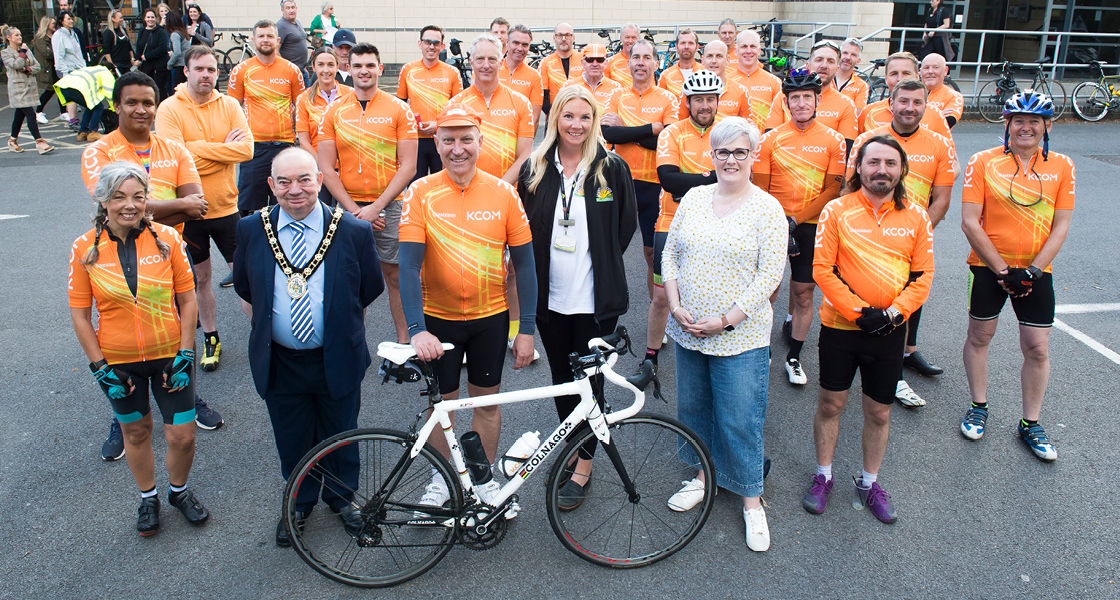 KCOM has taken to the highways and byways of North Lincolnshire for its Bigger Than Broadband Charity Bike Ride.
Dozens of employees from the local broadband provider donned orange cycling shirts for the event, on Thursday, to raise money for Lindsey Lodge Hospice and Sunflowers Children's Action Group, which supports youngsters with life limiting illnesses.
KCOM pledged to match funds raised by employees taking part in the event, raising £2,000 in total for the two charities, which are the Mayor of North Lincolnshire's chosen charities of the year.
The Mayor of North Lincolnshire, Councillor Peter Clark, who welcomed the cycling home at the finish line at Baysgarth Leisure Centre, said: "It gives me great pleasure to attend and thank you for inviting me to the conclusion in Barton upon Humber of the KCOM Bigger than Broadband charity cycle ride.
"I congratulate the participants who have taken part, which is very much appreciated. Thank you to KCOM for organising the event and I welcome KCOM to the South Bank and wish it every success in the future with your business."
The cyclists took part in one of three, 24, 50 or 100-mile, routes around North Lincolnshire taking in picturesque towns and villages along the way including Barrow Upon Humber, Goxhill, Hibaldstow, Epworth and Kirton in Lindsey.
For many of those taking part, who have been working from home due to Covid, it was the first time they had seen any of their colleagues in person for 18 months.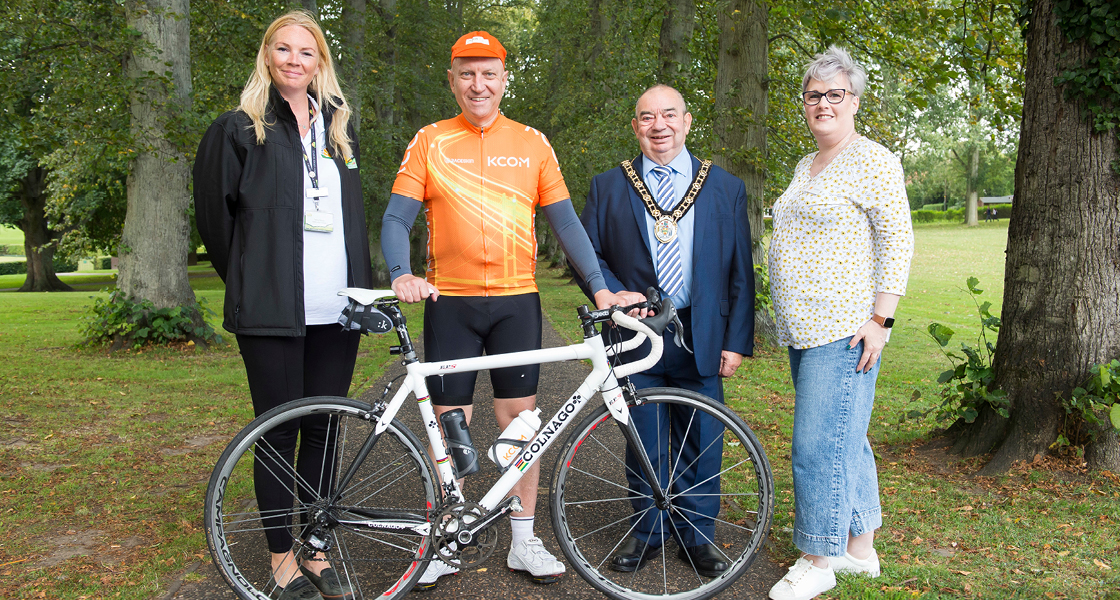 Dale Raneberg, KCOM's chief executive officer, said: "It was great for the whole team to get out and visit the communities where we're building our full fibre network while raising money for two great local causes.
"I know the Mayor has personally taken an active role supporting local charities and we're delighted to be able to join in and help both Lindsey Lodge and Sunflowers Children's Action Group which do such incredible work here in North Lincolnshire. I'm pleased to say that KCOM will match the amount that our employees have raised through their sponsorship and double the amount going to each charity.
"We've had so much support from the local community and I'd like to thank the staff at Baysgarth Leisure Centre for all the help they have provided and for giving us such a warm welcome."
While the cyclists were hitting the road, KCOM employees who preferred shoe leather to pedal power took part in a sponsored seven-mile walk around Barton Upon Humber in aid of the same causes.
Selina Doyle, Lindsey Lodge Hospice fundraising coordinator, said: "I think this is a fantastic idea, especially with everyone working from home at the moment. It's a fabulous opportunity for people to get together - not to mention all the money that they are raising that will go towards helping patients at Lindsey Lodge.
"It's brilliant to see so many people have turned out to support us and taken to their bikes to raise so much money. Thank you to everyone at KCOM for making such a brilliant effort."
Kate Roberts, of Sunflowers Children's Action Group, said money raised by the event would go towards providing youngsters with life-limiting illnesses with special Christmas presents and a party.
She said: "What a brilliant idea, we can't thank KCOM enough for doing this today and raising not only money but awareness of our charity and what we do. Every penny that is raised today will go towards giving children with life limiting illnesses a brilliant Christmas. Thank you for everyone taking part."