News
By KCOM | 19 June 2023 - 3 min read
Linzi makes leap of faith for Lincs Air Ambulance
KCOM's Linzi in tandem skydive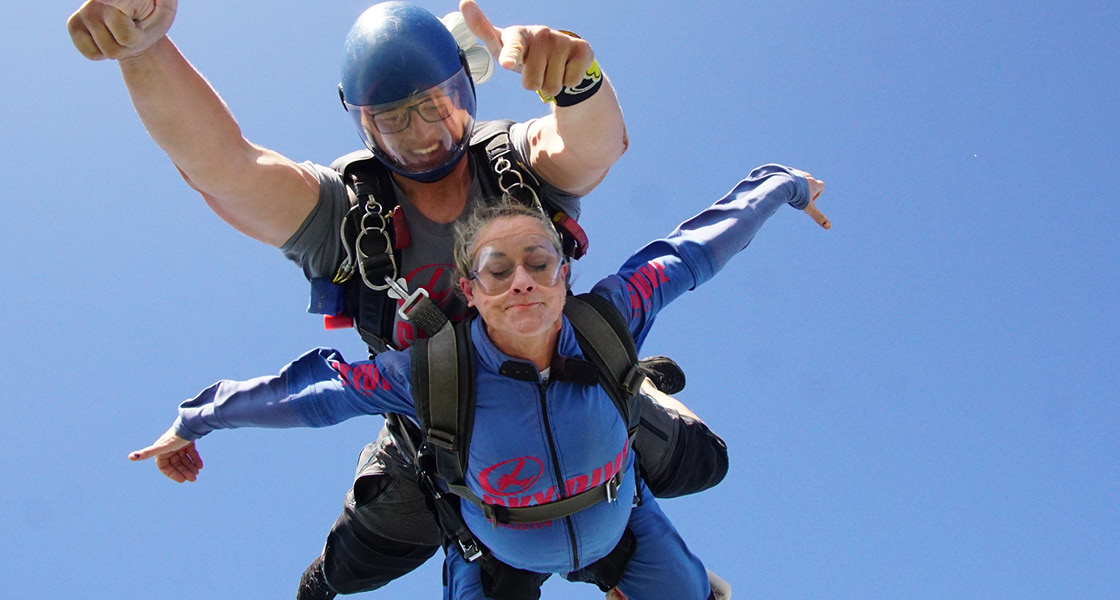 She's scared of heights and definitely not an adrenaline junkie, but that hasn't stopped KCOM's Linzi Corrigan taking to new heights for charity.
The broadband provider's Community Engagement Manager took the ultimate leap of faith this week when she made her maiden tandem skydive from 15,000ft this week at Skydive Hibaldstow, in North Lincolnshire – all to raise money for Lincs and Notts Air Ambulance.
After landing back on terra firma Daredevil Linzi said: "I can't believe I just did that!" That was the most insane experience of my life. What a rush. There's nothing that can prepare you for taking that last step out of the plane and into the sky.
"But the Skydive Hibaldstow guys were utterly fantastic and talked me through it all the way. I don't think I would have gone through with it without them reassuring be. I'll admit I was utterly terrified – but what a fantastic experience. The feeling of falling is like nothing else on earth – quite literally in this case!"
"And it was all for a fantastic cause. Lincs and Notts Air Ambulance is a great charity and I'm delighted to have helped raise some cash to help them continues their great work saving lives across the area."
KCOM donated £1,000 to the charity for Linzi's jump and also took part in Skydive Hibaldstow's Coronation weekend community fair that raised funds for the helicopter charity.
KCOM supported the community event after expanding its full fibre broadband network to North Lincolnshire villages including Hibaldstow earlier this year. Now hundreds of homes of businesses in the area are able to get ultrafast speeds which means no buffering or drop outs – not even out of a plane from 15,000ft!
A spokesperson for the Lincs and Notts Air Ambulance, said: "We are extremely grateful for this wonderful donation.
"As one of the leading Helicopter Emergency Medical Service charities in the UK, we constantly challenge ourselves to deliver the very highest level of pre-hospital critical care to our patients.
"Last year we needed to raise £8 million to operate 24 hours a day, seven days a week and as we receive no direct funding from the Government, we rely on the wonderful generosity of individuals and organisations like KCOM to help fund our work and enable us to continue to be by the side of patients, day and night."
"Will I do it again? Er, no, glad I did it but no, probably not!"
For more details about the Lincs and Notts Air Ambulance visit ambucopter.org.uk For more details about KCOM full fibre broadband visit www.kcom.com