Retail
By KCOM | 30 March 2017 - 4 min read
Unveiled: Rembrandt masterpiece goes on display at Ferens Art Gallery
Rembrandt van Rijn's The Shipbuilder and his Wife will be displayed at the gallery from April 1 to August 28.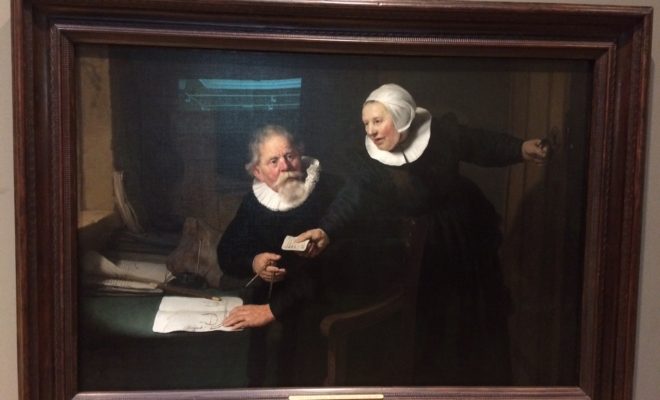 Hull's Ferens Art Gallery has added a painting from one of the world's most famous artists to its already impressive collection – in another coup for the gallery during UK City of Culture year.
Rembrandt van Rijn's The Shipbuilder and his Wife will be displayed at the gallery from April 1 to August 28.
The painting has never previously been displayed at the Ferens, or anywhere in Hull for that matter, and its unveiling comes 11 weeks after the gallery celebrated its reopening by adding Pietro Lorenzetti's Christ Between Saints Paul and Peter to its collection.
The Shipbuilder and his Wife's arrival in Hull comes after a new partnership between Ferens and the Royal Collection Trust, in which five artworks from Windsor Castle and Buckingham Palace will be loaned to the city over the course of the next four years.
Rembrandt painted The Shipbuilder and his Wife in 1633 – at the height of his success and popularity as a portrait artist and two years after he moved from his home city Leiden to Amsterdam.
The painting, which complements Hull's rich maritime heritage, depicts Jan Rijcksen, master shipbuilder and shareholder at Dutch East India Company, and his wife Griet Jans.
While the general public will have to wait until Saturday to see this remarkable piece of art, the media were treated to a sneak peek today – on the day of its hanging – and they also had the chance to cast an admiring glance over the gallery's latest exhibition of contemporary art, Offshore: Artists Explore the Sea.
Kirsten Simister, Ferens Art Gallery's curator of art, said: "The Shipbuilder and his Wife is an extremely important artwork, it's a real masterpiece by Rembrandt who's a household name – everybody has heard of this artist.
"It's an absolutely wonderful example of his work, painted when he was at the height of his powers.
"Because it's The Ship Builder and his Wife, it obviously has a real local relevance. It's amazing that we can display a work that was created by fantastic artist, with a fantastic subject that brings great local relevance."
Speaking of local relevance, there is an intriguing theory that Rembrandt lived in Hull and York between 1661 and 1662 – a legend that will undoubtedly intrigue the people of our fine city.
"One of the key themes throughout the year is to try to make the works that we bring here relevant to the local context," Kirsten added. "There is this amazing theory that Rembrandt might have spent time here and in York.
"It's a theory not without substance because there is there is this wonderful early 18th century notebook by George Virtu in which he writes that Rembrandt spent time in Hull and York painting portraits of seafaring men and gentleman.
"This little bit of evidence has not been explored very much by art historians in the past but is something that we are hoping might stimulate further debate and research."
Rembrandt's The Shipbuilder and his Wife will be displayed at Ferens Art Gallery from April 1 to August 28.