News
By KCOM | 01 April 2022 - 3 min read
Waterline students tour KCOM for glimpse behind the scenes
Malet Lambert pupils learn about sustainability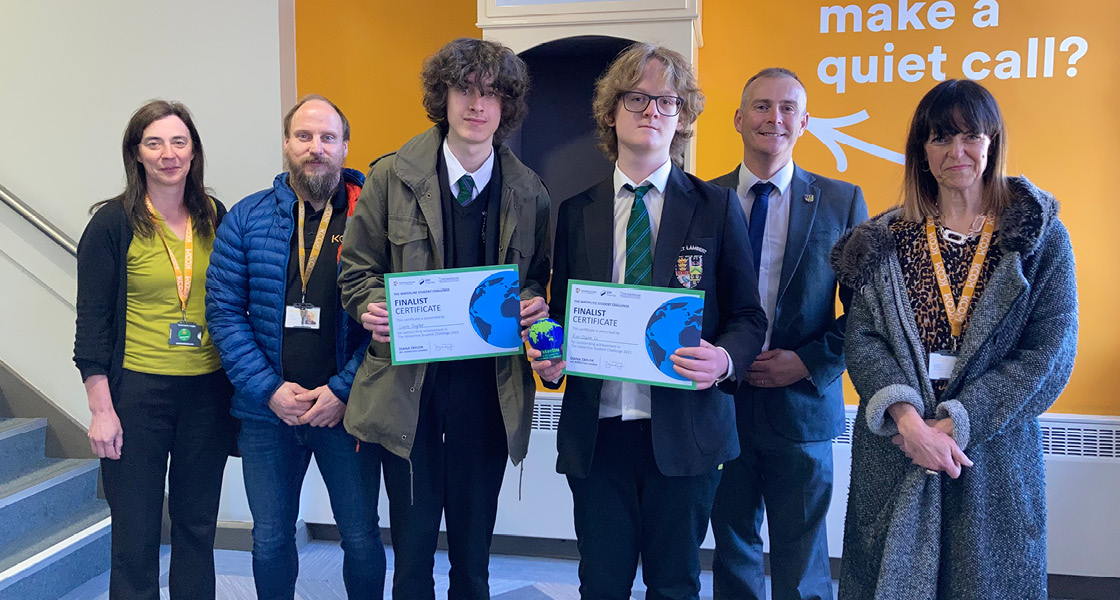 Students from Malet Lambert School have visited KCOM for a look behind the scenes at how the company connects the region.
Year 10 students Oscar Appleton-Burdall, 15, and Lewis Taylor, 14, were invited to tour the broadband provider's city centre offices as part of their prize for taking part in the inaugural Waterline Student Challenge 2021 which asked young people to imagine "innovative solutions to harmful environmental problems".
For their challenge Oscar and Lewis created an app called Eco-Stepper, which rewards its users with points for using public transport and walking instead of taking the car. Those points could then be used to buy rewards from local retailers.
Oscar said: "It was good fun taking part in the challenge. We wanted to do something that was linked to sustainability and we thought an app that rewarded people for taking public transport would be a good way of encouraging people to think about what they can do to help the environment.
"It would be nice to take the app onto the next stage now and make it a reality."
During their visit Oscar and Lewis also learned about KCOM's green initiatives as it targets becoming a sustainable net zero business.
Malet Lambert teacher Stephen Taylor said taking part in the Waterline Challenge had been a rewarding experience for all the students taking part.
He said: "It's absolutely vital that pupils are aware of the issues surrounding sustainability and what they can do to help promote it in the future. As the Humber is increasingly a major hub for renewable energy that's going to mean more jobs and opportunities for young people going forward and it's great that initiatives like this can start them thinking about how they can get involved.
"It's great to be able to see behind the scenes at what a company like KCOM does as part of the prize and to see what it's doing towards a more sustainable future."
Caroline Morris, KCOM's head of wellbeing, health and safety, said: "It's brilliant to be able to welcome students to KCOM to show them what we do.
"Oscar and Lewis's idea for an eco-app showed they have the creativity and right ideas to help businesses like KCOM become more sustainable in the future and I'll look forward to seeing what they come up with next, if they take part in this year's challenge."
To learn more about sustainability at KCOM click here