I've lost my Internet connection, what do I do?
Written by KCOM Support on 11/01/2023. Posted in Broadband.
If you're having trouble getting onto the internet, there may be several possible reasons.
First, check our support page to see if we have any service issues. If there are no service issues currently, we have some steps below that may help to resolve the issue.
We have a handy interactive troubleshooting tool that can help diagnose and fix the most common in-home broadband issues such as slow speeds and no connection. The tool also covers some of the basic troubleshooting questions that our call handlers would ask you over the phone. Please click here to give it a try: Broadband Troubleshooter
Step one: Checking the ONT (Lightstream customers)
The first thing to check would be the ONT box on your wall (this is the box that your router plugs into).
Power light should be solid green
Optical light should be solid green
LAN1 light should be green (flashing or solid)
If the power light or optical light on your ONT are off, flashing or red, this means there may be an issue on our side please visit this article for more help: My Optical Light is flashing, has gone off or has gone red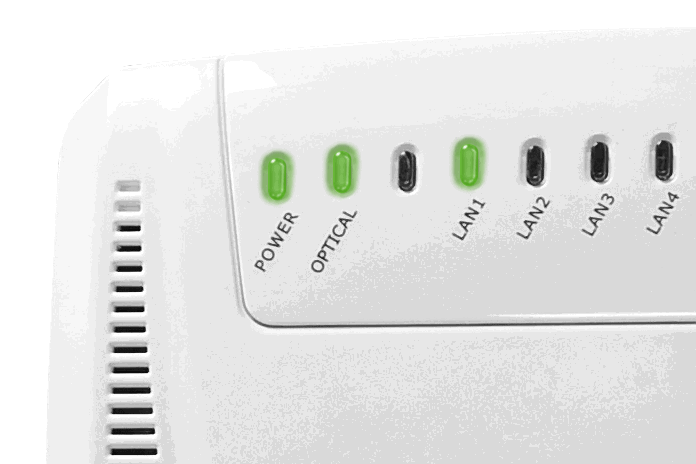 Step two: Checking the lights on the router
Broadband, WAN or DSL light is off

This would indicate that your router has lost its connection to us and isn't picking up a fibre or DSL connection.

Possible solutions:
 

For Lightstream, check that the Ethernet cable is plugged into the WAN port on your router. Check that the other end is plugged into the LAN1 port on your ONT.
 
For ADSL broadband, check that the DSL cable is plugged into a microfilter which in turn should be plugged into your main telephone socket
 
Are you a new customer? If so, your connection might not have been activated yet. You can check this by calling 01482 602555.
 
If none of the above work, please call us on 01482 606101 so we can troubleshoot your connection
 

Internet, World or Globe light is red

This would normally indicate that there is an issue with your router settings or the username and password on your router is incorrect.

Possible solutions:
 

Turn your router off by using the power button, wait 10 seconds and then turn it back on again to see if your Internet light goes green
 
Factory reset your router by pushing a pin into the reset hole on the back of your router for 10 seconds - your router should set itself up again automatically
 
Check your router settings by and make sure your KCOM username and password are correct
 
If none of the above work, please call us on 01482 606101 so we can troubleshoot your connection


 
All lights are green

If all of your lights are on and green but you cannot get online, you've probably lost your wireless connection.

Possible solutions:
 

Turn off the Wi-Fi on your device and then turn it back on - this refreshes your wireless connection and may help you get back online
 
If possible, plug your device into the router with an Ethernet cable and see if you can browse the Internet. If this didn't work, please call us on 01482 606101 so we can troubleshoot your connection
---
2207