News
By KCOM | 20 June 2023 - 3 min read
The sky's the limit for rural businesses with KCOM broadband
Full fibre broadband makes life easier for rural business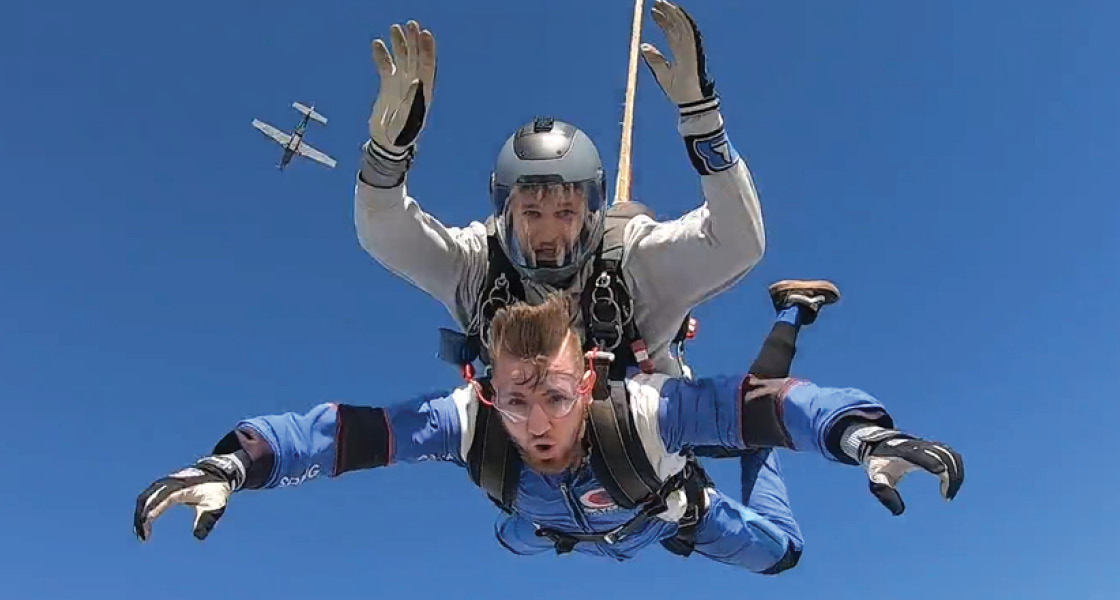 When your business is all about giving people the experience of a lifetime – you don't want anything to slow you down.
That's why Skydive Hibaldstow, in rural North Lincolnshire, has joined the KCOM full fibre network to give its customers the best possible time both in the air and on the ground.
The UK-leading skydiving centre has been connected to KCOM's Full Fibre 900 package, allowing lightning-fast download and upload speeds and reliable connectivity. That enables guests waiting to jump the chance to relax by connecting seamlessly to Wi-Fi, centre staff to check online bookings and reply to customers instantly and skydiving instructors to upload film footage of people's thrilling freefalls within minutes of landing.
The centre also benefitted from the Government's Rural Gigabit Voucher Scheme which meant businesses in the area could claim vouchers to support the cost of installing new, reliable full fibre broadband connections to their rural location.
Rachelle Clayton, of Skydive Hibaldstow, said: "We're based on an old RAF base, in a rural location, in a very small village. We can't get an Uber. We can't get takeaway food deliveries and we were probably in one of the last areas that was going to get good internet. But when we noticed KCOM  installing fibre broadband in the village and the opportunity came to be part of the Rural Gigabit Voucher Scheme, we jumped at it – no pun intended.
"We didn't have the fibre cables down here, but KCOM came along and installed all those for us. We had a really good relationship with them installing it and that's been really important to us – knowing that we're working with a company that's really friendly and whose engineers are helpful and professional. We've had the broadband in for several weeks and it's just made a massive difference to our day-to-day operations. Everything's just so much quicker and more efficient now."
Charlie Diprose, a skydiving instructor with more than 1,000 jumps under his belt, said KCOM's full fibre broadband makes it possible to deliver the films of skydivers' experience within minutes of them arriving back on terra firma.
He said: "There's no feeling like it. You can't describe the feeling of freefall to anyone. It's a once in a lifetime experience, especially when it's someone's first skydive, you're feeding off their energy, the nerves the fear, enjoyment, the relief. It's a real rollercoaster of emotions.
"A lot of the time people are doing a skydive for a reason very personal to them and often they want to show their loved ones. We produce a whole package including photos and a video edit with an interview and the build-up to the jump. Boarding the plane, climbing to altitude, doing the freefall and landing clips of their reaction to it. So, we want to make not only the jump enjoyable but the whole package that they can take away with them as a record of the day.
"Since having KCOM the upload process has gone from half an hour to a couple of minutes and people can access their videos a lot more easily than when we were just handing out USB sticks. That's really important, especially with the current generation who want to post it online to their Instagram and Facebook as quickly as possible.
"They can click a link and it's downloaded instantly to the device they're on and they can upload it straight away, which is far more convenient for them and for us. Having the KCOM broadband has just made the whole process faster and easier and it's completely changed the way we do things and the experience we can give visitors."
For more details about KCOM's full fibre business broadband visit kcom.com To find out if your community is eligible or to register for the Gigabit Voucher Scheme call 01842 484101.