News
By KCOM | 09 June 2022 - 3 min read
KCOM proud to support Pride as main sponsor
Broadband company announced as gold partner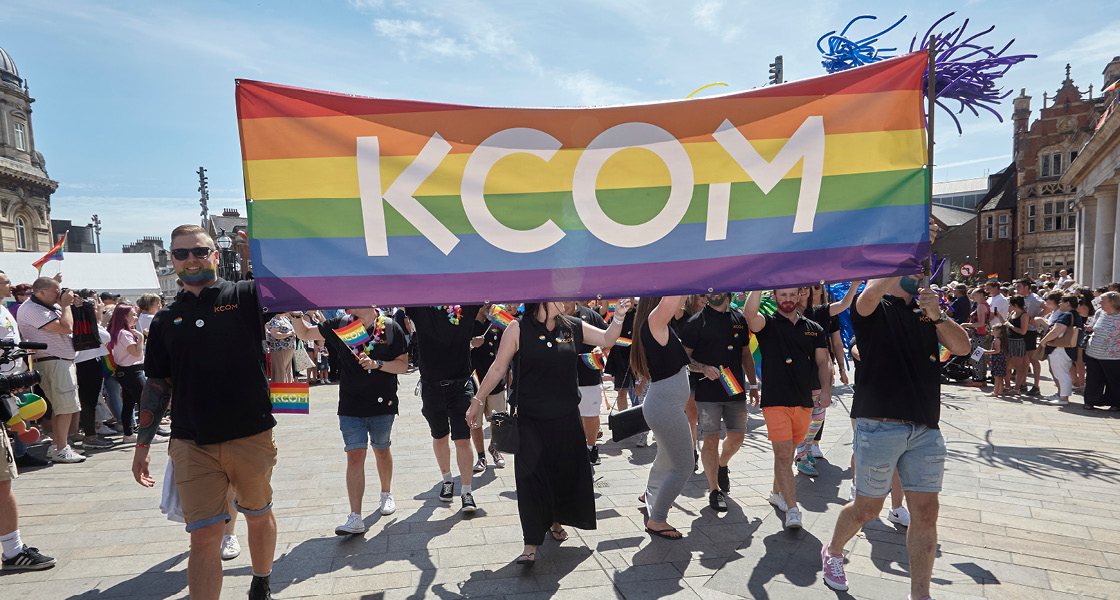 KCOM has restated its commitment to diversity and inclusion as it is announced as one of the main sponsors of this year's Pride in Hull celebrations.
The Hull-based broadband provider has agreed to become a gold sponsor for the Pride in Hull event which is set to take place on Saturday, 30 July, and is one of the UK's biggest pride celebrations.
Pride In Hull chair Jamie Lewis, said: "Pride in Hull is delighted and excited to welcome KCOM as one of the main partners this year, this really highlights KCOMs commitment to its staff and customers around inclusion and engagement with the LGBTQAI+ community and being a strong inclusive company.
"We are really excited to see our partnership grow not just on the day of pride this year but throughout the rest of the year by working on a number of exciting events and initiatives."
As well as employees taking part in the showpiece - and always colourful - parade through Hull city centre, the company will also be involved in activities throughout the day in the KCOM Family Zone, at the first Pride in Hull event to be held in Hull's West Park.
KCOM will also have tickets to giveaway to Pride Party in The Park concert featuring Keith Duffy and Brian McFadden of supergroup Boyzlife. Watch this space for more details on how to win them in the run up to the day.
KCOM chief executive Tim Shaw said he was delighted to join the University of Hull and Back To Ours as the main gold level sponsors for the event.
He said: said: "As CEO, and a LGBT+ ally, it makes me proud that KCOM is a gold partner for this year's Pride in Hull. It's more important than ever that major local employers such as KCOM demonstrate their commitment to diversity and inclusion through both words and actions and standing shoulder to shoulder with Pride is a great way to do this.
"We want to ensure that every single colleague at KCOM knows they can be their true, authentic selves at work and that this applies beyond the workplace to everyone in the wider world as well.
"It's also a fantastic fun day out for all the family so we'll look forward to seeing everyone there enjoying themselves on the day."
For more details about Pride in Hull visit www.prideinhull.co.uk