News
By KCOM | 06 December 2022 - 3 min read
'Tis the season of goodwill as KCOM back a trio of local charities
Broadband provider backs three causes for Christmas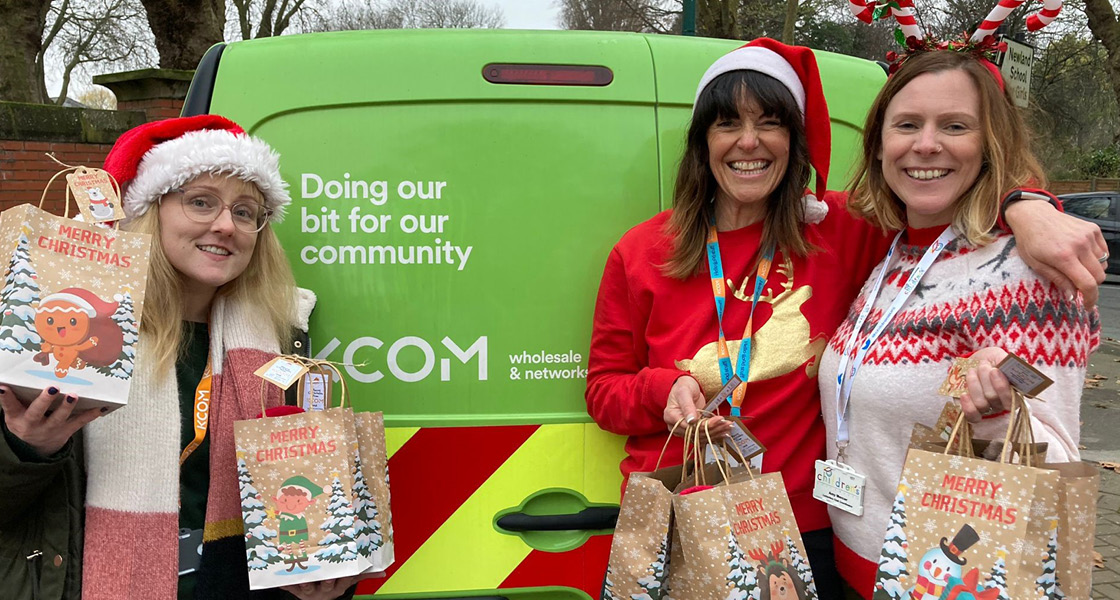 KCOM is bringing Christmas cheer to three local charities this year as it focuses on helping those struggling with the cost of living crisis.
The award winning broadband provider has partnered three great local causes - Hull & East Yorkshire Children's University, Age UK Hull and foodbanks in Hull, East Yorkshire and North Lincolnshire - as its helps to bring some yuletide joy to the region.
KCOM Retail managing director Neil Bartholomew, said: "I'm delighted to be partnering with three fantastic causes this year after what has been a challenging year for so many.
"As a business at the heart of the communities it serves, our customers aren't just customers but often our friends, families and neighbours too. That's why it's vitally important for us to give something back and help those who are struggling – especially at this time of year.
"As always, the response from our employees, offering to volunteer and donate gifts has been phenomenal and I'm very proud of the way our colleagues have responded this Christmas."
Among the schemes KCOM are supporting are the HEY Children's University Breakfast with Santa, where Father Christmas will deliver 80 presents donated by KCOM staff to youngsters in some of the most disadvantaged areas of Hull and the Warm Hugs initiative which provides Christmas goodies to children in care.
Rosanna James, Director of Development at HEY Children's University, said: "We're incredibly grateful to KCOM for supporting our Christmas schemes this year. As partners, they're sponsoring a Breakfast with Santa for two schools which includes presents for 80 children. They're also supporting our Warm Packs scheme for the second year running, supporting children living in the care system.
"The KCOM team are always on hand to help with the packing and wrapping and delivering of our gifts, and of course dress up as elves! Their support helps us to bring so many smiles to children who otherwise may not have much of a Christmas this year."
In the run-up to Christmas Day KCOM volunteers will be providing supplies and helping to pack and deliver food parcels and gifts for three area foodbanks including Driffield & Wolds, HU4 Community Cafe and Cooperation Brigg.
Driffield & Wolds Foodbank manager Angela Train said: "As of 1 December we already have 100 families on the Christmas recipient list, so this donation from KCOM is coming in at a very welcome time. It will go towards the cost of a pallet of food. Thank you so much, it's a huge help to the Driffield community!"
Last, but not least, KCOM is supporting Age UK Hull, providing volunteers and funding for a series of festive get togethers and hot meals as well as providing gift shoeboxes, for older people across the region.
Andrew Haynes, chief executive of Age UK Hull, said: "Christmas is often a time when feelings of isolation and loneliness can feel magnified, and for many older people this can be an especially difficult time, with the situation further exacerbated by the cost living crisis, and especially energy costs.
"Isolation and loneliness are some of the biggest issues facing older people across Hull and East Yorkshire and here at Age UK Hull we are doing as much as we can to support older people during this Christmas period, and thanks to sponsorship support from KCOM we've been able to plan and do so much more this year."
To find out more about KCOM works in the local community click here