News
By KCOM | 13 June 2023 - 2 mins min read
Nine Hull phone kiosks get an inclusive makeover for Pride
Classic K6 phone boxes get colourful new look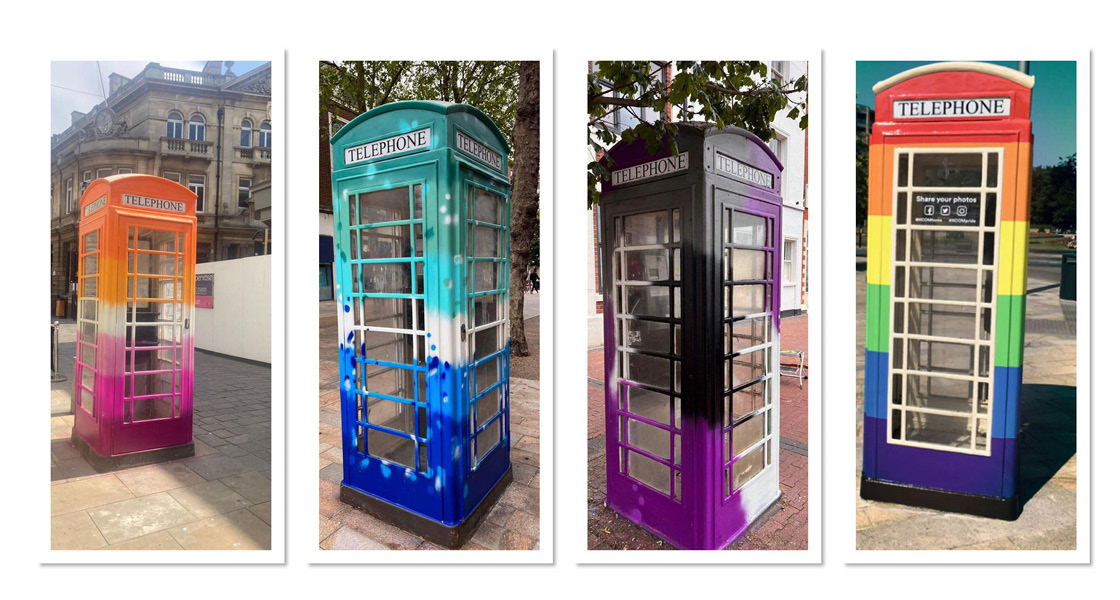 Nine KCOM phone kiosks in Hull have received an inclusive makeover this week, as the telecoms company celebrates Pride month.
The kiosks, located in different parts of the city centre, have been spraypainted with the colours of flags representing different sections of the LGBTQI+ community.
There are nine kiosks in all, as well as a web page dedicated to the trail that provides definitions of each flag and what it means to the community it represents. QR codes found within each of the nine kiosks can be scanned to take readers to the site, where they can also find a map of the other locations on the trail.
The artworks were all created by local artist @nohone for the KCOM Inclusion Team which was recently set up to increase awareness and celebrate diversity within the company.
Kylie Hill, Chair of the KCOM Inclusion Team, said: "As one of the main sponsors of Pride in Hull this year we wanted to be as vocal as possible about our support for the LGBTQI+ community, and what's more visible than giving a makeover to nine of Hull's famous cream K6 phone kiosks?
"KCOM is a Hull institution, and real change and acceptance in the wider world will only come when everyone can feel safe in their own skin, so it's up to companies like ours to become that change and let the world know that everyone is welcome in Hull. This Pride trail is another small step towards us achieving that aim."
The phone kiosks have been painted with stylised designs that represent the major identities that make up the LGBTQI+ community and are represented on the official Pride flag: intersex people, gay people, lesbian people, bisexual people, transgender people, asexual people, non-binary people and pansexual people, as well as the full Pride flag.
The trail is open to everyone at any time, and details of each location and what it represents can be found on the KCOM Pride Phone Box Trail website at www.kcom.com/home/lgbt-phone-box-trail.